An Overview:  
At McNeese, our approximately 8,000 students can choose from more than 70 degree programs offered by the Colleges of Business, Education, Engineering and Computer Science, Graduate Studies, Liberal Arts, Nursing and Health Professions and Science and Agriculture. Our Engineering program, which holds ABET accreditation, has four concentrations: Chemical, Civil, Electrical and Mechanical with state-of-the-art laboratories for hands-on learning. 
Other popular programs include Computer Science, Medical Laboratory Sciences, Nursing, Chemical and Environmental Sciences, Health and Human Promotion, Liberal Studies and Business, which is AACSB International accredited.
With a growing international student population of over 400 students from more than 40 different countries,  McNeese is dedicated to serving the needs of its international students and helping them to achieve their educational objectives. Our motto is "Excellence with a Personal Touch", which can be evidenced in the classrooms, advising and campus life experience.
Many of our academic programs offer internship opportunities as part of the degree programs.  Being near major multi-national companies and at the heart of energy innovation, students have world-class opportunities to apply their education in professional contexts.  
The McNeese Rankings and Accreditations:
At McNeese, we believe that excellence and affordability go hand-in-hand.  In fact, McNeese has been ranked in Tier One in the Best Regional Universities-South category in the 2017 edition of "America's Best Colleges" published by U.S. News & World Report. McNeese was also ranked in the top 50 among the top public schools in the southern region.  
McNeese State University ranks third in Louisiana among all public and private institutions with the greatest lifetime return on investment for its graduates according to AffordableCollegesOnline.org, a national resource for college affordability and financial aid information. In 2018, our Engineering program was ranked first in the United States by PayScale for return on investment (ROI).
In addition to national rankings, McNeese is proud of its many national accreditations. McNeese State University is accredited by the Southern Association of Colleges and Schools Commission on Colleges to award associate, bachelor, master, and specialist degrees.
Scholarships:
Excellence and innovation can be affordable, which is why McNeese offers generous scholarship opportunities to qualified undergraduate students. The minimum GPA for consideration is 2.5 and awards range from $5000 to $10,800 per year. 
Scholarships are also available on a competitive basis for graduate applicants with a minimum 3.25 GPA. Students who apply early have the best chances of being awarded a scholarship. 
We make excellence affordable!
A Great Place to Live and Learn:
With a warm, sunny climate, Louisiana is an ideal place to live and learn all year round. Our average temperature is 69 degrees Fahrenheit (20 degrees Celsius). 
The Lake Charles area is known for its festivals, natural beauty and scenic lake area that offer a variety of opportunities to explore and experience American life. Lake Charles is a mid-sized metropolitan area that is big enough to offer everything you need and small enough to feel accessible and safe. 
Our proximity to coastal wetlands as well as major oil and gas investments provides McNeese students with unique hands-on learning and research opportunities. 
At McNeese, you live and learn at the heart of innovation.
Office of International Programs
Box 90180
Lake Charles, Louisiana 70609
Phat from Vietnam is a freshman, studying Accounting at McNeese State University in Lake Charles, Louisiana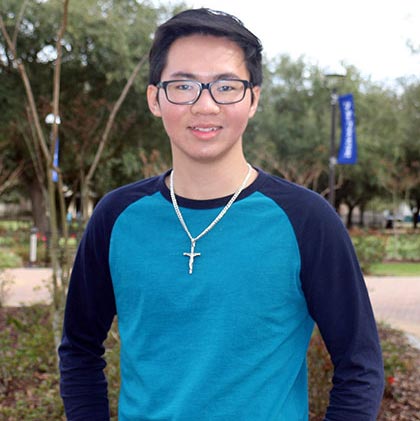 Ana from Brazil is a senior majoring in Political Science at McNeese State University in Lake Charles, Louisiana