Considering getting into a career being a Certified Nurse Midwife? Excellent choice!
Certified Nurse Midwife (CNMs) are highly sought-after in the nursing industry and the health sector as a whole.
And with this simple, one-stop guide, you're going to effortlessly acquaint yourself with all you need to know about this prestigious profession.
From how to become a CNM, CNM roles, salaries, job prospects, and more, this article on Nurse-Midwifery covers every essential information before becoming a Certified Registered Nurse in the US.
Let's dive in!
Who Is a Certified Nurse Midwife?
Generally, a Certified Nurse Midwife (CNM) is an Advanced Practice Registered Nurse who provides primary care around maternal, reproductive, and gynecological health to women of diverse ages throughout their lives.
These nurses are primarily associated with offering women gynecological, prenatal (before birth), childbirth, and post-natal (after birth) health care.
However, the role of a CNM transcends primary maternal care and overlaps with general health care for women.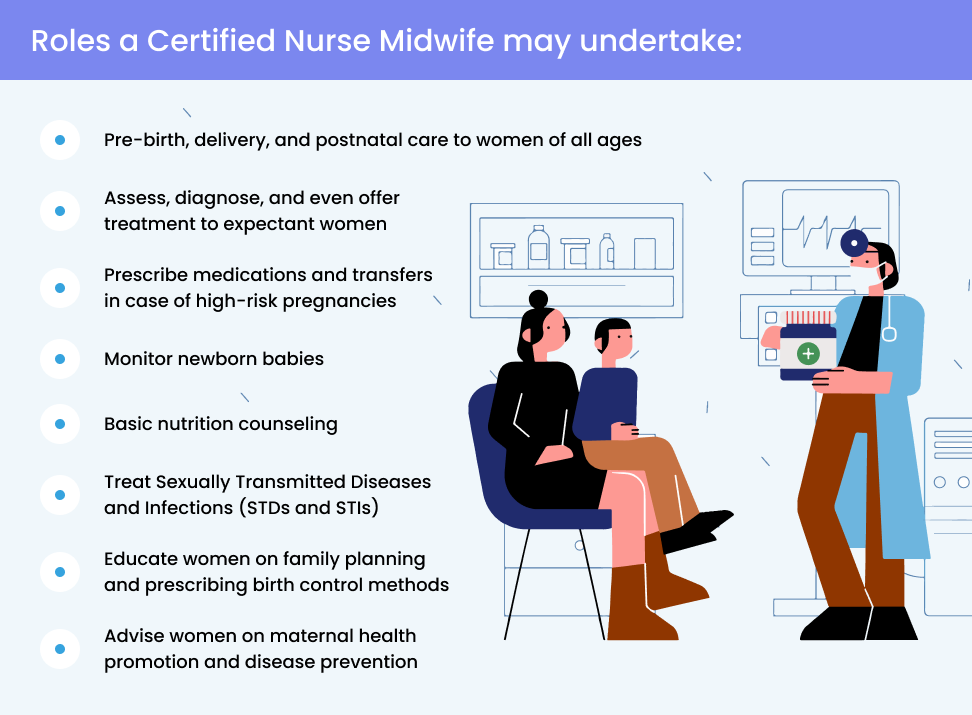 For a better look, here's an overview of the primary roles a Certified Nurse Midwife may undertake;
Pre-birth, delivery, and postnatal care to women of all ages
Monitor newborn babies
Assess, diagnose, and even offer treatment to expectant women
Prescribe medications and transfers in case of high-risk pregnancies
Treat Sexually Transmitted Diseases and Infections (STDs and STIs)
Educate women on family planning and prescribing birth control methods
Advise women on maternal health promotion and disease prevention
Basic nutrition counseling
CNMs can execute these roles either independently or under the supervision of an obstetrician (a certified health professional who mainly provides regular prenatal care) or gynecologist.
Also, these nurses can independently help expecting women deliver their babies naturally and safely for normal and low-risk pregnancies.
How Important Are Certified Nurse-midwives Today?
The importance of Certified Nurse Midwife in the US today can't be emphasized enough. To start, maternal mortality rates in the US are on a worrying trend, having been on a perpetual rise since 2000.
According to the American Journal of Managed Care (AJMC) and the Commonwealth Fund, the US has the highest mortality rate among 11 developed countries globally — an alarming revelation, considering the significant healthcare technological advances achieved and the expensive healthcare in the US.
The causes for this trend are numerous, but a dominant one is the inadequacy of maternal healthcare providers.
Consequently, healthcare facilities and organizations are seeking to incorporate more nurse-midwives into their systems to provide better, safer, and cheaper healthcare to women, newborns, and also families.
The result is a high demand for nurse-midwifery across the US, which we will look at in a short while.
Where Do Certified Nurse-Midwives Work?
What do you see when you think of a certified nurse-midwife: a studious female (or, in fewer cases, male) health provider in scrubs at the hospital's labor and delivery wing?
You're correct for the most part, as most Certified Nurse-Midwives ply their trade in hospitals. Nonetheless, CNMs can work in relatively wide healthcare settings providing healthcare for women.
The main areas you can work in as a CNM include;
Hospitals
Birthing centers
Public Health Clinics
Private Practices/Homebirth services
Obstetrician-Gynecologist clinics
Hospitals
By far the most extensive setting for Certified Nurse-Midwives, hospitals provide a dynamic environment for nurse-midwives to work alongside obstetricians, handle low and high-risk natural or surgical births, provide gynecological care, and monitor the health of pregnant women.
Birthing Centers
CNMs working in birth centers mainly assess and monitor women through their pregnancy. Moreover, they might also evaluate, diagnose and even treat gynecological conditions that may arise during the pregnancy period.
Public Health Clinics
Handling the maternal health of large and diverse communities, CNMs based in community clinics mainly assess and monitor pregnant women before pregnancy, during pregnancy, and across the postpartum period. Additionally, they may also offer family planning services and birth control formulas.
Private Practices and Homebirth Services
Private practice and homebirth services involve normal pregnancies with minimal risk and usually don't need the presence of an obstetrician. Here, nurse midwives help healthy expectant women with safe labor and vaginal delivery.
OB/GYN Clinics
Certified nurse-midwives working in OB/GYN clinics help obstetricians and gynecologists handle expecting women's maternal and gynecological health during and after pregnancy.
What's the Difference Between a CNM and Direct-entry, Delivery/Nurse, and a Traditional Midwife?
Commonly, the main difference between a CNM and other types of midwives, like Direct-Entry Delivery Nurse Midwife and Traditional Midwives, is that a CNM is a certified Advanced Practice Registered Nurse (APRN) specializing in midwifery.
Suffice it to say, CNMs have an advanced nurse midwifery-focused education degree and can seek state licensure in all US states.
On the other hand, a direct-entry delivery nurse-midwife (certified professional midwives and certified midwives) is an accredited midwife who practices without necessarily being a nurse first.
Similarly, traditional midwives are childbirth care providers who have little to no formal education but have learned the birthing process by directly involving expectant women from largely local, rural, and poor communities.
Some qualifications that distinguish CNMs from other midwives are;
CNMs have an RN licensure
CNMs have a graduate degree in midwifery
CNMs have been certified by the American Midwifery Certification Board (AMCB)
CNMs are free to apply for state licensure from any US state
How Much Do Certified Nurse-Midwives Make?
Currently, the US Bureau of Labor and Statistics places the average annual salary of a certified nurse-midwife at $115,540 a year, which translates to roughly $55.55 an hour. Besides, the upper percentile of CNM wages gets to about $179,770 a year or $86.43 an hour, while the few in the lowest wage percentile earn $67,710 a year ($32.55/hr).
Note CNM salaries also heavily depend on the industry, state, and location. Considering these variances, below is a summary of the five best-paying states, metropolitans, and industries for Certified Nurse-Midwives;
Most Rewarding Industries for CNMs
| | | |
| --- | --- | --- |
| Industry | Hourly Wage | Hourly Wage |
| Local Government (excluding schools and hospitals) | $76.06 | $158,210 |
| Outpatient Care Centers | $68.28 | $142,010 |
| Physician Offices | $55.98 | $116,440 |
| General Medical and Surgical Hospitals | $53.57 | $111,420 |
| Colleges, Universities, and Professional Schools | $51.51 | $107,130 |
Highest Paying States for CNMs
| | | |
| --- | --- | --- |
| State | Hourly Wage | Annual Wage |
| California | $76.72 | $159,590 |
| Utah | $64.27 | $133,680 |
| Mississippi | $61.52 | $127,960 |
| New York | $60.47 | $125,780 |
| Minnesota | $59.42 | $123,600 |
Highest Paying Metropolitan Areas for CNMs
| | | |
| --- | --- | --- |
| Metropolitan Area | Hourly Wage | Annual Wage |
| Los Angeles – Long Beach-Anaheim, CA | $92.04 | $191,440 |
| Riverside – San Bernardino – Ontario, CA | $82.21 | $171,000 |
| San Jose – Sunnyvale – Santa Clara, CA | $80.71 | $167,870 |
| San Francisco – Oakland – Hayward, CA | $77.94 | $162,110 |
| Sacramento – Roseville – Arden – Arcade, CA | $75.53 | $157,100 |
How to Become a Certified Nurse-Midwife
A certified nurse-midwife is an Advanced Practice Registered Nurse. Hence, to become a CNM, you must first achieve an RN license by passing the National Council Licensure Examination for Registered Nurses (NCLEX-RN).
To sit the NCLEX-RN exam, you will be required to have completed a Bachelor of Science in Nursing (BSN) or Associate's Degree in Nursing (ADN) program accredited by the Accreditation Commission for Midwifery Education (ACME).
Guide To Becoming a CNM as a Registered Nurse
Pathway for RNS With a BSN Degree;
Pursuing an advanced degree in nurse-midwifery for RNs with a BSN degree is pretty straightforward, as you can take the BSN-MSN bridge nurse-midwifery program, which typically runs for about two years. Find out more about this track and programs that can help you get into CNM: RN to Midwife
Pathway for RNs With an ADN Degree
With the bridge and fast-track RN-MSN/RN-DNP programs, RNs with ADN degrees can work towards their midwifery education without taking a BSN program first, and these programs usually take about four years to complete.
Also, since you would probably be a practicing RN already as you work towards your nurse-midwifery program, it's beneficial that many nursing schools offer online programs to help you find some work-study balance.
On successful completion of your advanced degree, you become eligible to sit for the CNM National Certification Examination and stand a chance to be approved by the American Midwifery Certification Board for success in the certification exam.
Finally, here's a summary of the main requirements before becoming a certified nurse-midwife;
A working RN license
At least one year of nursing experience working in a Labor and Delivery Unit
Good scores on the Graduate Record Examination
CNM Career Outlook
The US Bureau of Labor Statistics estimates that the employment rate for all general Advanced Practice Registered Nurses is expected to grow by 45% between 2020-2030.
A common reason for the massive employment growth rate expectation for APRNs is the increased emphasis on preventive care and the demand for healthcare by the aging population.
More specifically, the outlook for certified nurse-midwives is generally promising, both employment-wise and career growth-wise.
For CNMs alone, the US Bureau of Labor Statistics places the employment growth rate at 11% — which sets it at about thrice the growth rate for other careers.
And already, more and more women across the US are opting for CNM-led births and alternative out-of-hospital settings.
The reasons for this development include the suggestion that deliveries led by CNMs are cheaper, less invasive, and lower-tech.
In summary, CNMs that might want to impact health industries on a bigger scale can further work toward their Doctor of Nursing Practice (DNP) to take up more influential leadership and management roles.
What Skills Do I Need as a Certified Nurse Midwife (CNM)?
Since nurse-midwifery covers a wide area around maternal care and women's health, a nurse-midwife must have relevant, diverse skills to support their unique roles.
The basic skills a nurse-midwife should have are;
Patience and a compassionate attitude
Ability to effectively communicate with both patients and other healthcare providers at all levels
Great organizational and leadership skills
Good evaluation skills
Skilled patient care throughout pregnancy, labor, and delivery
Certified Nurse Midwife CNM Guide: Wrap Up
Nurse midwifery is undeniably an excellent opportunity for nurses who want to step up their careers. Thanks to the generous salary levels, expected growth in employment rates, and the increasing regard for the profession.
Whether you are starting from the ground up or are already a practicing registered nurse looking to get into nurse-midwifery, this CNM guide sure gives you the best idea of what to expect as you begin your journey toward becoming a nurse-midwife.
Worried about your freedom if you're working another job already? Remember that most schools run online and in full or part-time schedules for nursing programs. You can continually advance your nursing qualification without compromising much of your professional life.