BSN and Accredited BSN Program Requirements: The Complete Guide
Pursuing a Bachelor of Science in Nursing (BSN) degree opens you to a world of opportunities — from higher salaries to a favorable job outlook and high employment rates. According to a 2020 AACN survey, 94% of BSN graduates secure employment within six months of completing their degree.
Along with a healthy job outlook, BSN degree holders also have the opportunity to move into different specializations, such as case manager, pediatric ICU nurse, and medical-surgical nurse.
Keep reading to learn more about BSN and accredited BSN program requirements, covering everything from the pre-licensure BSN pathway to choosing the right BSN program.
Key Takeaways
A Bachelor of Science in Nursing (BSN) is a four-year program open to new students and registered nurses with associate degrees.
BSN program requirements depend on many factors, including the state, school, and program.
According to the Bureau of Labor Statistics, the employment rate for registered nurses is expected to increase by 9% from 2020 to 2030.
BSN Requirements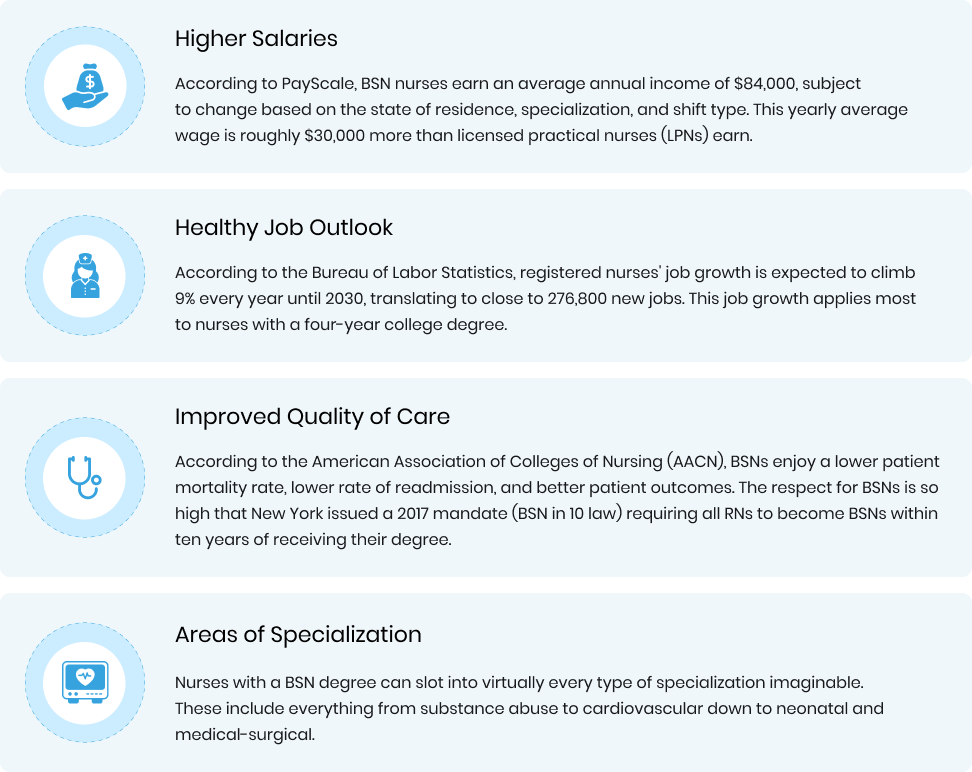 The Pre-Licensure BSN Pathway
The path to obtaining a BSN is built on the traditional four-year undergraduate degree program. A BSN degree program provides a basic knowledge set that includes educational and professional nursing courses essential for clinical competence and informed judgments about health and patient care.
In addition, graduates of the BSN pathway have the option to take the National Council Licensure Examination (NCLEX-RN) to become registered nurses.
What is a BSN?
A BSN program is a four-year undergraduate program for registered nurses. It offers a broader knowledge base and job scope than the traditional RN degree. Additionally, the program opens the path to leadership roles, specializations, and better preparedness. Many studies show lower patient mortality rates and better patient outcomes by BSNs over RNs.
What Are the Prerequisites for a BSN?
Prerequisites for a BSN depends on the nursing program you're applying for. However, most BSN admission requirements call for a cumulative high school GPA of 2.75 or higher, along with a 2.5+ GPA on all science costs such as chemistry and biology.
On top of achieving high grades, prospective students may have to submit an essay, letters of recommendation from authority figures such as teachers/intern leaders, a CV/resume, and proof of volunteer experience or community service.
How Much Is a BSN Degree?
How much students pay for a BSN degree depends on several factors, including but not limited to the state, scholarship/grant awards, and the institution itself. Expect to pay more per credit hour at top institutions like John Hopkins University than an online-only school.
Expect to pay up to $105,000 in tuition costs, along with incidents such as room & board, testing fees, books, and insurance.
How Many Years of Schooling Are Required to Become a BSN?
BSN programs usually take four years to complete. However, accelerated BSN programs allow students to earn their BSN in as little as two years, as long as all required prerequisites such as basic general education courses are taken beforehand.
What Type of Coursework Is Covered in BSN Programs?
Here are specific courses BSN students may take, depending on the nursing program.
Human Anatomy
Nursing Care I and II
Microbiology
Reproductive Health
Pharmacology
Pathophysiology
Health Maintenance and Restoration
How Many Clinical Hours Are BSN Students Expected to Take?
The number of clinical hours BSN students take depends on the nursing program. Expect anywhere from 300 to 700 clinical hours, all completed in person under the care of a supervising nurse. Clinical hours are on-the-field training in the lead-up to managing a small patient caseload.
What Prerequisite Programs Can BSN Program Students Expect to Take?
Prerequisite courses for BSN students typically revolve around general education subjects, such as college algebra/math for liberal arts, introduction to sociology, introduction to psychology, and statistics.
For an example of a live accelerated BSN program curriculum, you can check one by Florida Atlantic University's Christine E. Lynn College of Nursing 
Is It Advised That BSN Students Work While Studying?
We advise not working while enrolled in a BSN program. Depending on the school and program, students can expect between 30 to 40 hours a week attending class and completing their clinical nursing hours. These hours don't include the extra hours spent on personal study.
At best, students can expect the most free time during their freshman year, where many easier general education courses are taken.
What Are the Benefits of Having a BSN Degree?
There are many benefits to obtaining a BSN degree.
Higher Salaries
According to PayScale, BSN nurses earn an average annual income of $84,000, subject to change based on the state of residence, specialization, and shift type. This yearly average wage is roughly $30,000 more than licensed practical nurses (LPNs) earn.
Healthy Job Outlook
According to the Bureau of Labor Statistics, registered nurses' job growth is expected to climb 9% every year until 2030, translating to close to 276,800 new jobs. This job growth applies most to nurses with a four-year college degree.
Improved Quality of Care
According to the American Association of Colleges of Nursing (AACN), BSNs enjoy a lower patient mortality rate, lower rate of readmission, and better patient outcomes. The respect for BSNs is so high that New York issued a 2017 mandate (BSN in 10 law) requiring all RNs to become BSNs within ten years of receiving their degree.
Areas of Specialization
Nurses with a BSN degree can slot into virtually every type of specialization imaginable. These include everything from substance abuse to cardiovascular down to neonatal and medical-surgical.
Of course, BSN holders need to obtain certifications in these fields, such as Medical-Surgical Nurse Certification Board (MSNCB) and American Nurses Credentialing Center (ANCC) certifications for medical-surgical nurses.
What Does the Job Outlook Look Like for BSNs?
BSNs enjoy a healthy job outlook. According to a 2021 AACN survey, BSN graduates enjoyed a 76% job offer rate upon entering the profession and a whopping 93% after four to six months.
The US Bureau of Labor Statistics also projects 14% growth in healthcare occupations through 2028, making them one of the fastest-growing occupations in the country. This growth rate is majorly due to the aging population needing health care.
Besides job growth numbers, there have been an increasing number of initiatives encouraging students to obtain their BSN degrees. For example, the 2017 New York State 'BSN in 10 law' now requires all nurses to obtain their BSN within ten years of receiving their RN license, citing improved patient outcomes.
With that said, more than 50% of nurses now have a BSN degree, a remarkable improvement over years past.
What Are the Highest Paying States for BSN Nurses?

According to the Bureau of Labor Statistics, the 2020 RN average salary was $75,330.
See our breakdown below for the top-paying states for BSN nurses.
| | |
| --- | --- |
| State | Annual Salary |
| Washington | $93,772 |
| New York | $87,488 |
| New Hampshire | $84,739 |
| California | $83,471 |
| Vermont | $80,022 |
Keep in mind, many factors influence BSN salaries, including the type of shift (e.g., nights or weekends), years of experience, and the state you're residing in.
In addition, the type of industry also affects BSN salaries. For example, many nurses working in home health care settings can expect to earn up to $80,000 a year instead of hospital nurses earning an average annual salary in the $80K to $90K range.
All About the NCLEX-RN Exam
What is the NCLEX-RN Exam?
Administered by the National Council of State Boards of Nursing (NCSBN) in the United States, Canada, and Australia, all nursing students must successfully pass the NCLEX-RN exam to become RNs/BSNs.
How is the NCLEX-RN Exam Structured?
The NCLEX-RN exam uses a computerized adaptive testing (CAT) format, which adjusts the difficulty level of each question based on the number of questions you answer correctly or incorrectly. Therefore, expect a nice mix of multiple-choice, fill-in-the-blank, and drag/drop questions.
That said, it can contain as little as 75 questions and as many as 265 questions.
What Does the NCLEX-RN Exam Test You For?
The NCLEX-RN exam seeks to grade proficiency in all aspects of nursing education.
It is divided into eight categories:
20% Management of Care
12% Safety and Infection Control
9% Health Promotion and Maintenance
9% Psychosocial Integrity
9% Basic Care and Comfort
15% Pharmacological and Parenteral Therapies
14% Physiological Adaptation
12% Reduction of Risk Potential
How to Choose the Right BSN Program for You
We highly recommend following these six criteria when choosing a BSN program.
Accreditation
Accreditation is a no-brainer. Ensure that your nursing program is accredited by the National League for Nursing Accreditation Commission (NLNAC) or the Commission on Collegiate Nursing Education. These are the two main governing boards that ensure high-quality education and eligibility to take the NCLEX-RN exam.
Failure to attend an accredited nursing program will limit your ability to participate in a higher education accredited nursing program (e.g., MSN) in the future. It may also hurt job prospects and restrict the types of specializations you can qualify for.
NCLEX Exam Passing Rate
Look for a high passage rate over the last five years. Go for 85% or higher. Anything less than that is a cause for concern.
Location
Nursing students enrolled in BSN programs have on-campus and online options. Online options are an excellent choice for full-time job holders or those with time-consuming commitments. However, do not be fooled – online programs are just as rigorous as on-campus programs, with the same (if not greater) number of clinical hours required.
How Can I Pay For My BSN Education?
There are many ways to pay for your BSN education. One of them is applying for scholarships and grants.
Luckily, there are an unlimited number of scholarships you can apply for, offering financial aid ranging from hundreds of dollars to the total cost of tuition. Each has wildly different requirements for minimum GPAs, trade affiliations, and areas of focus.
For example, the $1,500 Deborah Stevens Pediatric Nursing Scholarship emphasizes pediatrics and is awarded to three winners interested in learning pediatric nursing. The Pay It Forward CRNA Scholarship offers $4.400 for graduate-level students enrolled in a nurse anesthesia program.
What Other BSN Scholarships Are Out There?
Here's a list of reputable BSN scholarships. Please be aware each has its location, award amount, deadline, and qualification criteria.
How Do I Qualify for BSN Scholarships?
It's important to know all eligible criteria when applying for nursing scholarships. The better you know the eligibility criteria, the better your chances of success.
One of the key qualifying factors of BSN scholarships is current or future enrollment in a nursing program. Other BSN scholarships are awarded based on financial need, minimum GPA, and participating in a trade program or identifying with a particular ethnic group.
Other qualification criteria include scholarship essays and a highly personalized application that allows you to accentuate key features of your skills and personality.
You can find one of our favorite resources for BSN scholarships at our scholarship hub.
Can I Get My BSN in 3 Years?
Yes, nursing students can obtain their BSNs in 3 years through an accredited, accelerated program.
All in all, obtaining your BSN can lead to an exciting and rewarding career that opens up the door to high salaries and different areas of specialization. You'll also find fulfillment in knowing you're helping people in their greatest time of need.