BSN Salary: Average Bachelor of Science in Nursing (BSN) Nurse Salary
A Bachelor of Science in Nursing (BSN) is a four-year program open to new students and registered nurses with associate degrees.
Obtaining a BSN helps improve career prospects for all nurses, opening them up to managerial, administrative, and teaching opportunities.
BSNs can expect to make an average of $13,000 more per year than registered nurses, subject to change based on specialty, region, and medical setting.
Obtaining a Bachelor of Science in Nursing (BSN) is a practical choice for new students or registered nurses looking to expand on their knowledge and skills as a nurse. BSN nurses earn significantly higher than ASNs, and added to that are better career prospects, responsibilities, and specializations.
According to nursingprocess.org, the average BSN hourly salary is $40.50, subject to change based on several factors, including location, specialty, and rotation schedule.
Keep reading to learn more about BSNs, including how to become a BSN, average salaries, and projected salary growth.
What Is a BSN?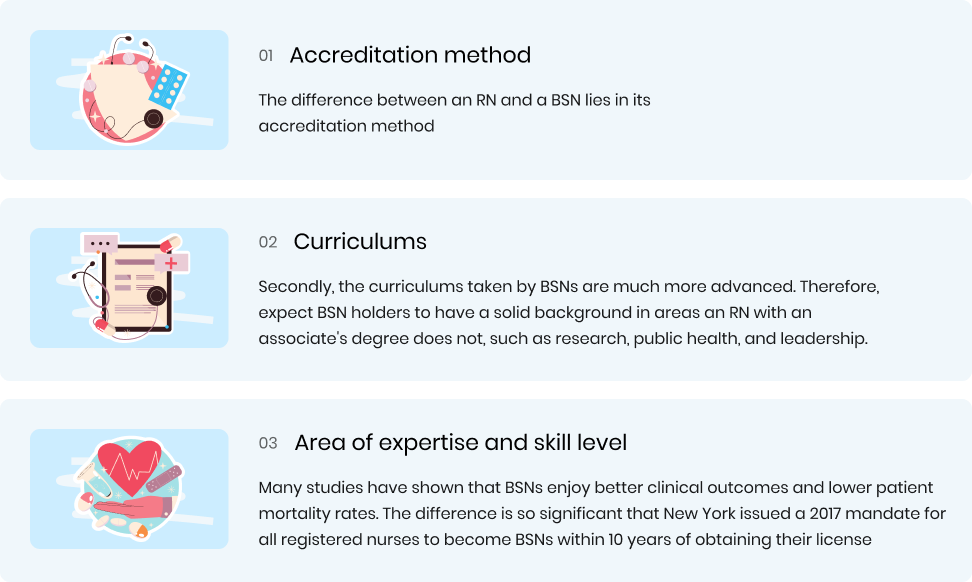 A BSN (Bachelor of Science in Nursing) is a 4-year program open to students interested in becoming RNs and existing RNs with associate's degrees interested in increasing their earnings potential.
Note that accelerated BSN degree programs also take as little as two years to complete. Both BSN programs factor in heavy prerequisite courses and clinical rotations, placing nurses in health clinics or hospitals.
In short, look to a BSN if you want to maximize your earnings potential.
How Does a Registered Nurse Become a BSN?
The path for a registered nurse to become a BSN comes in two ways. The first is to pursue a BSN, participating in a four-year program (or two years with an accelerated BSN).
The second option is to become a registered nurse through an associate's degree program before enrolling in an RN to BSN program to complete your BSN degree.
What's the Difference Between an RN and a BSN?
The difference between an RN and a BSN lies in its accreditation method.
Secondly, the curriculums taken by BSNs are much more advanced. Therefore, expect BSN holders to have a solid background in areas an RN with an associate's degree does not, such as research, public health, and leadership.
Another difference between RN's and BSNs lies in their area of expertise and skill level. Many research studies have shown that BSNs enjoy better clinical outcomes and lower patient mortality rates. The difference is so significant that one state (New York) issued a 2017 mandate for all registered nurses to become BSNs within ten years of obtaining their license.
As a result of these differences, BSNs enjoy better career prospects with the opportunity to enter managerial, administrative, and leadership roles.
What Is the BSN in 10 Act?
The BSN in 10 Act is a piece of legislation calling for RNs to become BSNs within ten years of obtaining their degree. This mandate supports increasing research studies that work performed by BSNs resulted in better patient outcomes and fewer clinical errors. Other tidbits include lower odds of hospital readmission and shorter hospital stays.
Currently, New York is the only state in the United States to pass the law (December 2017).
What Type of Coursework Can BSNs Expect?
The American Association of Colleges of Nursing sets all BSN curriculums in stone, focusing on core prerequisites and nursing courses.
Popular nursing coursework covers pharmacology, pathophysiology, reproductive health, statistics, anatomy, and the assessment and health and illness.
What Advanced Nursing Degrees Can Nurses Pursue With a BSN?
A BSN opens the door for higher credentials, such as CNS (clinical nurse specialist), DNP (Doctor of Nursing Practice), NP (nurse practitioners), and an MSN (Master of Science in Nursing).
What Are Some Typical BSN Program Requirements?
BSN program requirements depend on many factors, including the state, school, and program.However, there are some constants.
To be eligible for BSN admission, students must have a valid high school diploma or GED, have a minimum GPA (usually 3.0 or higher), letters of recommendation from teachers/authority figures, and payment of all necessary fees, including application fees.
How Much Should I Expect to Pay For a BSN Degree?
The amount paid for a BSN degree largely depends on the type of school attended (e.g., state vs private), in versus out-of-state status, and any scholarships or grants offered.
According to NurseJournal, four-year BSN program participants can expect to pay up to $105,000 for tuition on top of general fees, books, insurance, lab fees, and room/boarding fees. It's important to know that a single college credit costs as much as $2000.
One of the benefits of obtaining a BSN is that existing RNs with a diploma or associate degree can earn their BSN in as little as a year while keeping a full-time job. Depending on the program, you may even be able to transfer credits from RN-based coursework.
Luckily, many financial aid programs are available to undergraduate and graduate students.
What's the Jobs Outlook Look For Registered Nurses?
According to the Occupational Outlook Handbook, one of the leading career resource guides published by the U.S. Bureau of Labor Statistics, figures for annual growth look promising. RN roles are estimated to grow 9% from 2022 to 2030, translating to roughly 195,000 openings each year.

BSN nurses typically earn more than those with an associate's degree. For starters, BSNs can expect to make an average of $13,000 more per year than registered nurses.
Keep in mind BSN salaries vary significantly based on shift differential pay. Therefore, nurses who work harder shifts (e.g., weekends or holidays) or are available on-call can expect to receive higher compensation and on-call pay incentives.
Another factor that influences BSN salaries is the number of years of experience. The more years of experience, the higher the salary. It is not uncommon for a BSN nurse to start with an entry-level wage of $52,000 before seeing it skyrocket to over $120,000 with more than ten years on the job.
Thirdly, the type of industry impacts average annual salaries for BSNs. For example, a nurse based in a hospital or outpatient care center could earn an average annual salary in the $80K to $90K range. In contrast, nurses working in home health care or physician's offices can earn in the $70K to $80K range, even if both have the same number of years in the field.
Lastly, location is a significant factor. For example, it's not uncommon to see California BSNs earn twice the average annual income of other states due to higher cost of living and market factors.
What Is the Job Outlook for BSNs?
BSNs have a very favorable job outlook. According to the Bureau of Labor Statistics, the employment rate for registered nurses is expected to by 9% from 2020 to 2030. The employment growth rate for BSNs is also a tad higher than associate degree-earning RNs.
How Have BSN Salaries Trended Over Time?
The BSN salary growth rate has trended favorably over time. According to nursingprocess.org, salary growth between 2013 and 2017 was 12.72%. The projected salary growth should be consistent with this value due to the constant demand for quality healthcare and the need for BSN-educated RNs over ASNs.
As mentioned, BSNs are in high demand. One state, New York, even issued a 2017 mandate calling for all RNs with associate degrees to obtain their Bachelor of Science degrees within ten years of receiving their license.
How Does a BSN Nurse's Salary Compare With Similar Job Titles?
BSN salaries are very competitive compared to other medical roles requiring a four-year degree. According to the N.P. Editorial Assessment, a BSN earns a higher average annual salary than occupational health/safety specialists, dietitians, nutritionists, exercise physiologists, and recreational therapists.
However, the average annual salaries vary significantly depending on specialty and location, with certain states having a higher cost of living. So, for example, it's not surprising to see California nurses earning nearly double the average annual salary of those (with the same credentials and number of years of experience) living in South Dakota.
Is it Better to Have a BSN or RN?
We highly recommend that all RNs obtain a Bachelor of Science in Nursing degree. Many statistics and case studies prove a BSN's worth over ASNs.
Additionally, many initiatives have converted as many ASNs to BSNs as possible. For example, in 2017, New York released the "BSN in 10" law, which requires all nurses to obtain a BSN degree within ten years after becoming a registered nurse.
This mandate was set due to increasing research studies that prove higher credentialed nurses see a lower overall patient mortality rate and fewer clinical errors.
What Types of Scholarships Are Available for RNs to Become BSNs?
There are many scholarships available for RNs to become BSNs. Some of these scholarships include the AfterCollege/AACN $10,000 Scholarship Fund ($25000 per quarter), and up-to-$7500 Foundation of the National Student Nurses' Association Career Mobility Scholarship, the Caroline E. Holt Nursing Scholarship, and the $2000 Mildred Nutting Scholarship.
Top Paying States for BSN Nurses
According to ZipRecruiter, the following are the top-paying states for BSN nurses:
| | |
| --- | --- |
| State | Annual Salary |
| Washington | $93,772 |
| New York | $87,488 |
| New Hampshire | $84,739 |
| California | $83,471 |
| Vermont | $80,022 |
According to the Bureau of Labor Statistics, the 2020 RN average salary was $80,010, above the national median wage. However, there's no universal equality in state salaries or every salary category.
Tips for Maximizing Your Earning Potential as an RN
Until you work towards your BSN degree with greater career opportunities and earnings on the horizon, here are our top tips for maximizing your earning potential as an RN:
Become Specialized
Adding certifications and specialties to your resume is a sure way of seeing increased opportunities. Some high-demand specialties include labor & delivery, oncology, cath lab, ICU, and CVICU expertise.
We highly recommend looking into CCRN certification and CNOR certification, covering acute/critical care and operating room nursing, respectively.
Obtain Your Bachelor of Science in Nursing Degree
It's simple – BSNs earn more than RNs with greater career opportunities and growing responsibilities in any medical setting. With a few years of experience, BSNs can also move into managerial or administrative roles.
Fortunately, RNs can earn their BSNs in as little as two years through an accelerated program.
Enhanced Nurse Licensure Compact (eNLC)
Earning this important distinction allows registered nurses to work with one multistate license, allowing them to freely move between states and provide telehealth services. In addition to providing more flexibility for registered nurses to work as travel nurses, it also allows patients greater access to care.
BSN Salary: Conclusion
BSNs earn a generous salary, much more than nutritionists, exercise physiologists, recreational therapists, and other healthcare professionals. There are virtually an endless amount of opportunities for specializations.
In addition to desirable career prospects, BSN nurses have the freedom to move from one state to the next. For a rewarding career, becoming a BSN is a solid bet.