RN to BSN Prerequisites: A Complete Guide on Earning a BSN
You must earn your RN license, pass the NCLEX-RN exam, and complete your license application to earn a BSN.
All RNs can become BSNs through a traditional four-year BSN program or an accelerated 18 to 24-month BSN program.
BSN holders can move into different specializations for better income and professional opportunities.
There's no shortage of opportunities for registered nurses (RNs) who wish to complete a Bachelor of Science in Nursing (BSN) degree. A BSN offers a quick path to a higher salary, a greater degree of specialization, and the ability to move into managerial, administrative, and educational roles.
However, transitioning to a BSN isn't bread and butter. It's important to arm yourself with the right information before getting started.
Keep reading to learn more about RN to BSN program's prerequisites, including all required coursework, exams, disciplines, and clinical hours.
All About RN to BSN Programs
What Are RN to BSN programs?
RN to BSN programs allow students to obtain their Bachelor of Science in Nursing. These programs usually take four years but can be completed in as little as 18 months through an accelerated program.
What Are the RN to BSN Prerequisites?

Students who wish to pursue an RN to BSN bridge program or obtain their BSNs must complete the following objectives.
Overall 2.5 GPA or higher (on a 4.0 scale)
A minimum grade of C on all prerequisites, including general education and transfer courses
Up-to-date immunization records, physical exam records, and evidence of malpractice insurance
Note, that admission requirements for RN to BSN programs are subject to change based on school and state licensing requirements.
For a sample RN to BSN curriculum by Florida International University, visit Nursing (RN to BSN) at Nicole Wertheim College of Nursing and Health Sciences (NWCNHS)
What General Education Courses Should I Expect to Transfer/Take With an RN to BSN Program?
All nursing programs require minimum criteria to be eligible for an RN to BSN program. These include general education courses.
BSN requirements include minimum scores on the SAT/ACT, college GPA anywhere from 2 to 3.25, and several years of math, science, and English.
Math could cover algebra I, algebra II, and geometry. Science could cover biology and chemistry.
Please refer to your nursing program's prerequisite for an exact breakdown of all required general education courses.
Do You Need Chemistry for RN to BSN?
Some schools require a set number of credits in the physical and life sciences, including one or more electives between physics, chemistry, biology, and the environmental sciences.
Be sure to refer to your school's prerequisites for full details on what courses are required.
How Many Years of Schooling Are Required to Become an RN?
Becoming a registered nurse usually takes three years at an accredited college or university. However, accelerated RN programs cut the time to as little as 12 months. In either case, students must complete all coursework and pass the National Council Licensure Examination (NCLEX)
How Long Does It Take to Bridge From RN to BSN?
Traditional RN to BSN programs take anywhere from nine months to two years, depending on the school, program, and the number of undergraduate credits transferred. Online RN to BSN programs take anywhere from 12 to 24 months to complete and offer more flexibility to non-traditional students such as working parents.
How Many Credits Does a Traditional BSN Program Require?
Traditional BSN degrees require that students complete 120 credits. Depending on the school, these 120 credits could be split between transferable lower-division credits, nursing core curriculum, clinical hours, and human sciences courses revolving around human anatomy, microbiology, psychology, statistics, and ethics.
Please refer to each nursing schools' BSN program for a more comprehensive look at the types of subjects and number of credits offered.
Do I Need a License to Enroll in an RN to BSN Program?
Yes, you must have your RN license to be admitted to a BSN program.
The good news is that RNs do not need to practice or spend time in the field to work towards a BSN. BSN curriculums have demanding clinical service hours, which allow you to obtain "on the field" job experience working and managing a small caseload alongside a supervising nurse.
What Types of Courses Do RNs Take To Become BSNs?
Accredited BSN programs combine core offerings, elective courses, nursing classes, and clinical rotations.
In your first year, expect to see a lot of general education classes such as microbiology, nutrition, emergency care, nursing theory, and health assessment. These classes contribute to credit hours, with required credit hours varying by program.
What Prerequisite Courses Must RNs Have Proof of Enrollment/Completion to Become BSNs?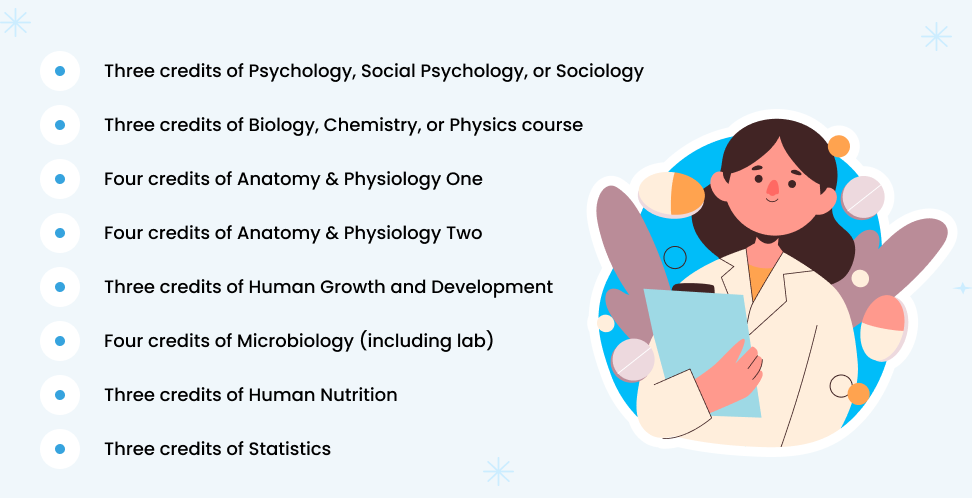 All BSN programs require that RNs complete required prerequisite courses with an earned grade of their choice. These prerequisite courses focus on the human condition with a nod to psychology, biology, chemistry, anatomy, physiology, and human growth and development.
Here are program prerequisites for the University of Florida College of Nursing's BSN program, accredited by the Commission on Collegiate Nursing Education (CCNE). All require an earned grade of C or higher.
Three credits of Psychology, Social Psychology, or Sociology
Three credits of Biology, Chemistry, or Physics course
Four credits of Anatomy & Physiology One
Four credits of Anatomy & Physiology Two
Three credits of Human Growth and Development
Four credits of Microbiology (including lab)
Three credits of Human Nutrition
Three credits of Statistics
How Much Should I Expect to Pay in RN to BSN Tuition Costs?
A BSN degree ranges anywhere from $40,000 to $200,000, depending on the school, in-state versus out-of-state status, and whether or not it's a traditional or accelerated program.
Expect the cheapest online RN to BSN programs in the country to cost as little as $105.07 per credit hour (University of South Florida), $116.16 per credit hour (Western Carolina University), or $116.52 per credit hour (Florida State College at Jacksonville).
Are There Scholarships Available for BSN Students?
Yes, there are many scholarships available for BSN students.
Here is a list of highly reputable scholarships. Please refer to each scholarship's description page for eligibility requirements and deadlines.
What About Additional Costs for Earning a BSN?
Outside of the cost of tuition, BSN students pay for incidentals such as physical exams, vaccinations, criminal background checks, admissions testing fees, lab fees, and uniforms.
Is There a Clinical Component to BSN Programs?
Yes, all BSN programs have a strict clinical component. The number of required clinical hours depends on the school and program. Typical BSN program clinical hours range from 300 to 700 hours, depending on the chosen specialty and the number/type of courses.
Benefits of BSN Programs
Why Should Rns Work Towards Obtaining a BSN?
There are many reasons why RNs should work towards a BSN.
Better Patient Outcomes
According to many students, BSN-prepared nurses enjoy better paternity outcomes, reduced deaths, and shorter lengths of stay for their patients. So don't be surprised to see your favorite hospital require a BSN as a minimum requirement.
Requirements
According to a 2020 ACCN survey, 41% of hospitals and facilities require new RN hires to hold BSNs. Additionally, BSNs are so revered that New York passed a 2017 law, "BSN in 10," which requires all registered nurses to obtain their bachelor's degree within ten years of becoming licensed.
Higher Earnings Potential
BSNs earn considerably more than registered nurses. According to the 2020 National Nursing Workforce Survey, ADNs earn an average annual salary of $782,000 compared to $86,520 for BSDNs.
Better Opportunities

BSNs have an endless variety of opportunities and specializations. For example, BSN holders can become nurse anesthetists, who enjoy salaries upwards of $200,000 a year in areas with higher living costs.
Other nursing specialties for BSNs include the following:
Clinical Nurse Specialist (CNS)
Family Nurse Practitioner (FNP)
Mental Health Nurse
Geriatric Nurse
Nursing Administrator
Public Health Nurse
Note, many of these specializations require a higher level of education than a BSN. For example, certified registered nurse anesthetists must first obtain a BSN and become a registered nurse before pursuing an MSN or a Doctor of Nursing Practice (DNP) degree, followed by CRNA certification.
How Does BSN Pay Compare to RN Pay?
To offer a helpful comparison of pay grades between RNs and BSNs, see the February 2019 salary figures breakdown by ZipRecruiter, a leading job search engine.
| | | |
| --- | --- | --- |
| Average Salary by State | BSN RNs | All RNs |
| New York | $83,995 | $70,374 |
| Maryland | $78,515 | $65,769 |
| West Virginia | $77,350 | $64,830 |
| West Virginia | $77,350 | $64,830 |
| Idaho | $77,000 | $64,500 |
| Arizona | $76,087 | $63,673 |
| Nebraska | $75,946 | $63,605 |
| Connecticut | $74,987 | $62,695 |
| Pennsylvania | $73,207 | $61,318 |
| Oregon | $72,615 | $60,800 |
| Ohio | $71,233 | $59,468 |
| Colorado | $72,617 | $60,852 |
| Oklahoma | $71,547 | $59,924 |
| Georgia | $69,721 | $58,512 |
| Michigan | $67,245 | $56,129 |
| Missouri | $66,787 | $55,913 |
| Texas | $69,230 | $58,433 |
| Arkansas | $66,520 | $55,879 |
What Is the Projected Job Outlook for BSNs?
The job outlook for BSNs has never been better. The US Bureau of Labor Statistics projects 9% annual percentage growth through 2030, making it one of the fastest-growing professionals in the country.
Additionally, many employees have demanded that RNs obtain BSNs without set periods. Some only look to hire BSNs outright, even with nursing shortages. Even a hospital or health clinic's status is on the line.
For example, the American Nurses Credentialing Center (ANCC)'s coveted magnet designation requires 80% of all nursing faculty (non-admin) and 100% of nursing administrators to have a BSN or higher degree.
All About NCLEX Testing
Are there any special tests or exams you must pass before becoming a BSN?
Yes, all RN to BSN students must pass the National Council Licensure Examination (NCLEX) to obtain a BSN degree. It allows nursing students to practice their craft in the United States, Canada, and Australia.
What Subjects Does the NCLEX-RN Exam Cover?
The NCLEX covers many subjects, including medical, pediatric, psychiatric, obstetric, and surgical topics.
See a breakdown of the eight nursing subfields covered by the NCLEX exam, along with covered subject areas.
Management of Care – 20%
This section covers topics like Advanced Directives, Advocacy, Case Management, Client Rights, Concepts of Management, Confidentiality, Continuity of Care, Quality Improvement, Delegation, Establishing Priorities, Ethical Practice, Informed Consent, Legal Responsibilities, Referrals, and Supervision.
Pharmacological and Parenteral Therapies – 15%
This section tests your knowledge of the following: Adverse Effects, Contraindications, Blood and Blood Products, Central Venous Access Devices, Chemotherapy, Expected Effects, Intravenous Therapy, Medication Administration, Pharmacological Pain Management, Total Parenteral Nutrition, and Dosage Calculations.
Physiological Adaptation – 14%
This section covers concepts like Alterations in the Body Systems, Fluid and Electrolyte Imbalances, Hemodynamics, Medical Emergencies, Pathophysiology, and Unexpected Response to Therapies.
Reduction of Risk Potential – 12%
This section covers Diagnostic Tests, Laboratory Values, Potential for Complications from Surgical Procedures, and Health Alterations and Therapeutic Procedures.
Safety and Infection Control – 12%
This section covers Accident Prevention, Error Prevention, Hazardous Materials, Surgical Asepsis, Standard Precautions, and Use of Restraints.
Health Promotion and Maintenance – 9%
This section covers topics like Aging Process, Ante/Intra/Postpartum and Newborn Care, Developmental Stages and Transitions, Disease Prevention, Health Screening, Lifestyle Choices, Physical Assessment Techniques, Health Promotion Programs, High-Risk Behaviors, and Self-Care.
Psychosocial Integrity – 9%
This section covers concepts like Coping Mechanisms, Grief and Loss, Mental Health Concepts, Spiritual Influence on Health, Sensory/Perceptual Alterations, Stress Management, Support Systems, Therapeutic Communication, Chemical Dependency, Behavioral Interventions, Crisis Intervention, Coping Mechanisms, End of Life Care, and Family Dynamics.
Basic Care and Comfort – 9%
This section covers concepts like Assistive Devices, Elimination, Mobility, Nonpharmacological Comfort Interventions, Nutrition, Oral Hydration, Personal Hygiene, and Rest and Sleep.
All in all, RN to BSN programs test a nursing students' mettle in general education courses, electives, nursing courses, and a set number of clinical hours out in the field.
In exchange for a very rigorous program through a traditional four-year or accelerated program, nursing students have the opportunity to enter a rewarding profession with a higher than average salary and the ability to change their life for the better, personally and professionally.