ADN Salary: Can I Make A Respectable Living as an ADN Nurse? 
Key Takeaways
You can become a nurse through various degrees, and an ADN is one such example.

Prospects must meet school requirements and compare career goals with the program's benefits before kick-starting their ADN program. 

ADN nurses can improve their use cases and earning potential by taking the NCLEX to become registered nurses.  
Nurses must be empathetic for successful careers, so the nursing profession transcends the money you gain. 
A nurse's true joy lies in the swift recovery of patients under their care.
However, financial prospects also matter. For instance, will your salary cover your repayments if you take a loan to attend nursing school? 
As such, it's essential to figure out your career outlook before you start nursing school. Can an ADN help you cater to your family's needs? Keep reading to find out this answer and discover everything else about the associate's degree in nursing.
Ready? Here we go! 
Nursing School Requirements
Schools have different admission processes and criteria, so double-check your preferred institution's specifics. Note too that these criteria change according to your program.
Accelerated programs require you to have a certain number of college credits already, although the criteria for certain schools vary. 
Regardless, there's a fine line to agree on for reference purposes. The following are fundamental requirements for admission into ADN programs nationwide:
A high school diploma or the GED equivalent
A high school GPA of at least 2.5
Proven competency in math: students can show this through taking a test or through ACT or SAT scores
A crime-free background
Prior completion of biology and chemistry either at a high school or college level
An acceptable score on the Health Education Systems, Inc. exam
Note it's typical to complete prerequisite requirements before entering a nursing program. As an ADN applicant, you'll likely take anatomy, physiology, and one or two general education courses like psychology and sociology.  
What Is an Associate Degree in Nursing (ADN)?
An associate degree in nursing (ADN) signifies the first step for many people in their nursing careers. 
This program covers the basics of nurse practice, but don't let that make you think it's mere surface scratching. ADN classes involve lectures, lab work, and clinical, and such a structure fosters critical information assimilation and facilitates hands-on experience. 
Remember, you can sit for the National Council Licensure Examination (NCLEX) with an ADN. Passing qualifies you for RN licensure. 
What Are the Benefits of Being an ADN Nurse?
Typically, an ADN is less costly than other nursing degrees, as it takes only two years, excluding prerequisites. You may even complete some within nine months! For context, a bachelor's degree in nursing (BSN) usually lasts for four years. 
Additionally, ADN nurses may later practice as RNs to expand their job opportunity range. You even enjoy broader practice scope than a licensed practical nurse (LPN) or a certified nursing assistant (CNA).
What's better? You may specialize in various areas over the years. Note the demand for nurses is high, fostering excellent job security in this field.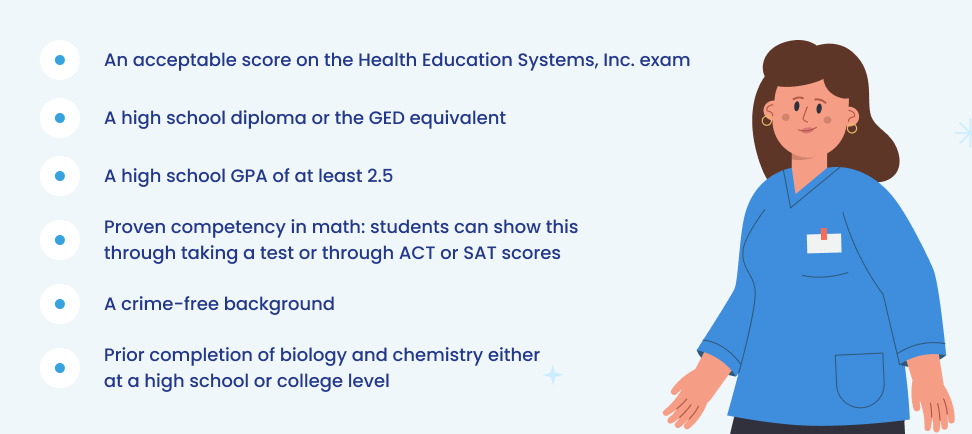 What Are the Essential Considerations Before Enrolling in an ADN program? 
An ADN program may take less time than its counterparts; however, it's time- and resource-tasking. Consequently, the following points are noteworthy before enrollment in one: 
Your Career Goals: Consider what you aim to achieve from your job and whether getting an ADN degree will help you fulfill these goals. Your Financial Resources: Are you able to afford an ADN degree based on your resources and financial aid options? The Time Commitment: The degree takes time, so ask yourself:  can I balance my ADN education with my other responsibilities? Fortunately, you can take advantage of online programs in accredited colleges for more flexibility. 
Is an ADN Degree Ideal for Me?
Securing an ADN degree is an excellent starting point for becoming a nurse. You become eligible for the NCLEX to practice as a registered nurse. 
However, do you need to consider other options?
You may acquire a bachelor's degree in nursing (BSN) instead. A BSN degree can increase your opportunities for further education and specialty roles.
Alternatively, suppose you need to start earning as soon as possible. You could get your certification to be a licensed practical nurse (LPN). An LPN program takes less time to complete and will allow you to start working sooner. 
Talking to other people in the healthcare profession can help make an informed decision. For instance, talk to nurses who work in a variety of settings. Consult recent graduates who just started practicing, too. Ask about how they made their education choices and what they would do the same or different.
How Much Does an ADN Cost?
An ADN costs differently according to several factors, including: 
Your Choice Institution: Attending a private school will likely cost more than attending a state or public school. Explore the options available to you and each school's reputation before deciding.  Available Financial Aid and Scholarships: You may be eligible for scholarships and other financial help forms depending on your situation. These options can reduce the price of getting your nursing degree.  Online or In-person Learning: Online classes might be a cost-effective alternative to in-person programs, as the former is typically cheaper. However, it's compulsory to ensure your program choice is accredited in your desired school.
Certain unique circumstances may be worth consideration, too. For example, can you work while at school? What other financial responsibilities do you have right now? Your situation will impact your financial choices, what scholarships you apply for, and the debts you incur.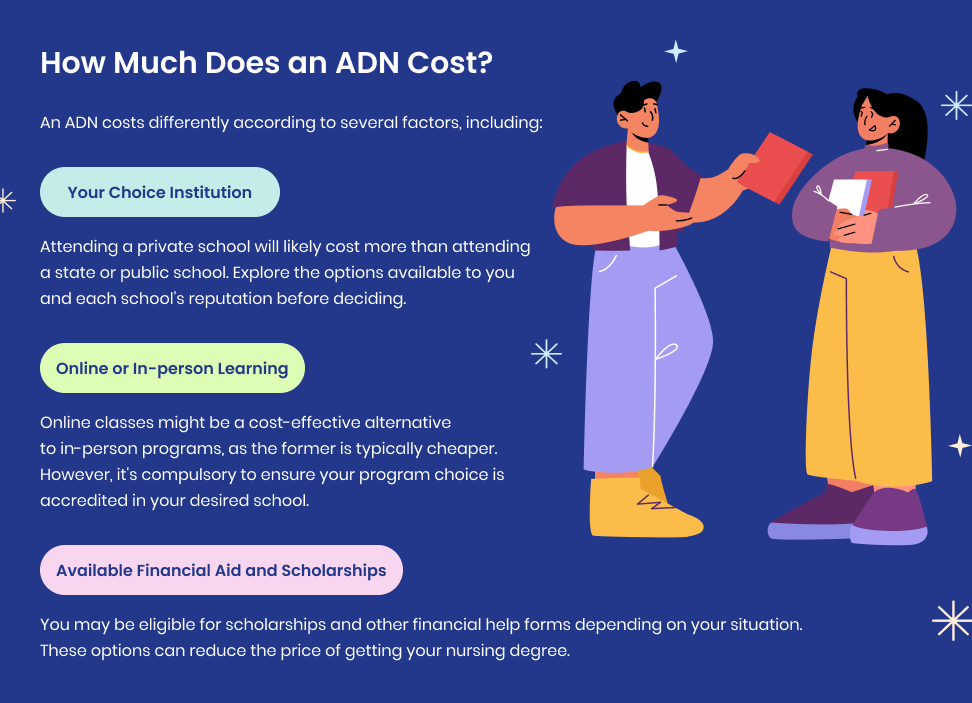 How Does an ADN Pay Compare to Other Entry-level Nursing Jobs?
Generally, RNs earn higher than CNAs or LPNs. However, your location and workplace may play significant roles. Not to forget that your pay is likely to improve with more years in service. 
The following are reported statistics from the Bureau of Labor Statistics handbook. We suppose a likely estimate of your potential earnings may help make your decision.  
RNs: $75,330 per year ($36.22 per hour). Estimates from occupational employment and wage statistics say that the average wage for registered nurses is closer to $83,000 a year.  LPNs: $48,820 per year ($23.47 per hour). Estimates from occupational employment and wage statistics say the average wage for LPNs is over $50,000 a year. CNAs: $30,830 per year ($14.82 per hour) Estimates from the occupation employment and wage statistics say the average wage for nursing assistants is closer to $33,000 a year.
Note averages include nurses with years of experience and nurses who have just started, including nurses in specialty areas. Notwithstanding, the general pay for RNs with at least an ADN degree will be higher than an LPN or CNA.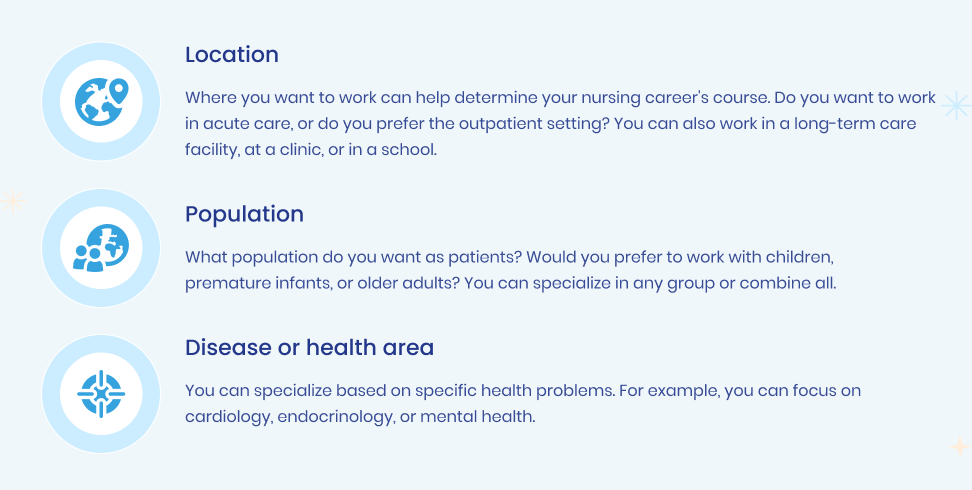 Paying for an ADN Degree – Financial Aid, Scholarships, Grants, Loans
Nursing school can be expensive, given the tuition, textbook costs, and accommodation payments. Thankfully, you can find numerous options to help you pay, ranging from financial aid and scholarships to grants and loans. 
Financial Aid: The government provides financial aid to medical students annually. However, the amount differs per student according to their financial circumstances. You may confirm your eligibility and the amount you qualify for by filling out the Free Application for Federal Student Aid (FAFSA).  Scholarships: You may be eligible for scholarships based on academic performance or membership in certain groups. Ask schools you are interested in about potential scholarships. Grants: Grants are similar to scholarships in that you don't have to pay them back. But they are more often awarded based on your need rather than academic achievement.  Loans: Public and private organizations can loan you your nursing tuition. The former is your ideal option, but the latter is also acceptable. Whichever you can access, ensure to iron out repayment terms before appending your signature.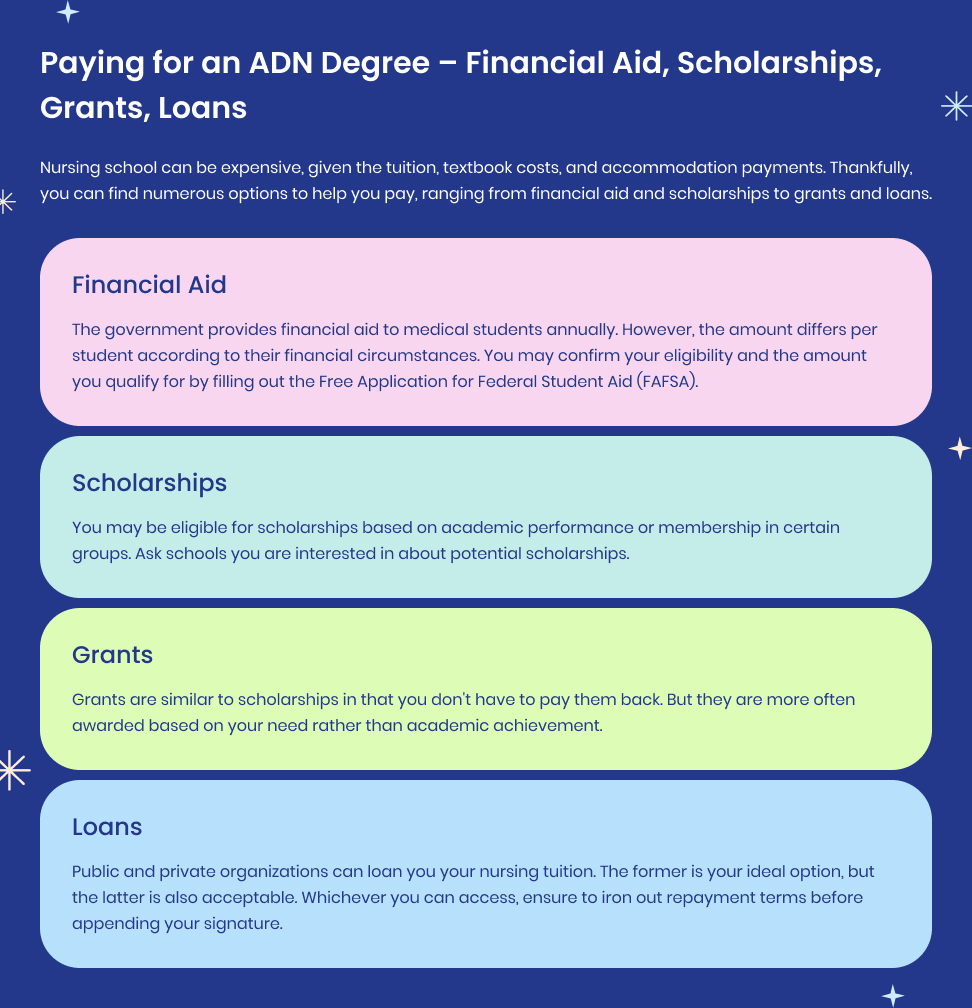 Types of ADN Programs
An associate degree in nursing (ADN) is an associate degree that qualifies you to gain RN certification. Every school's program is slightly different, but all cover the essential fundamentals of nursing. As noted by Indeed, there are three types of nursing associate degrees:
Associate Degree in Nursing (ADN): The ADN is the most common associate degree. It transfers the best if you decide to continue by getting your bachelor's degree in nursing (BSN). Associate of Science Degree in Nursing (ASN): This degree tends to have a higher amount of clinical focus than other associated degree options. Associate of applied science in nursing (AAS): This degree allows you to learn about many different nursing specialties to help you later in your career. 
Consider what programs are available to you at the schools you want to attend. Read program reviews and research any potential programs for advantages and disadvantages.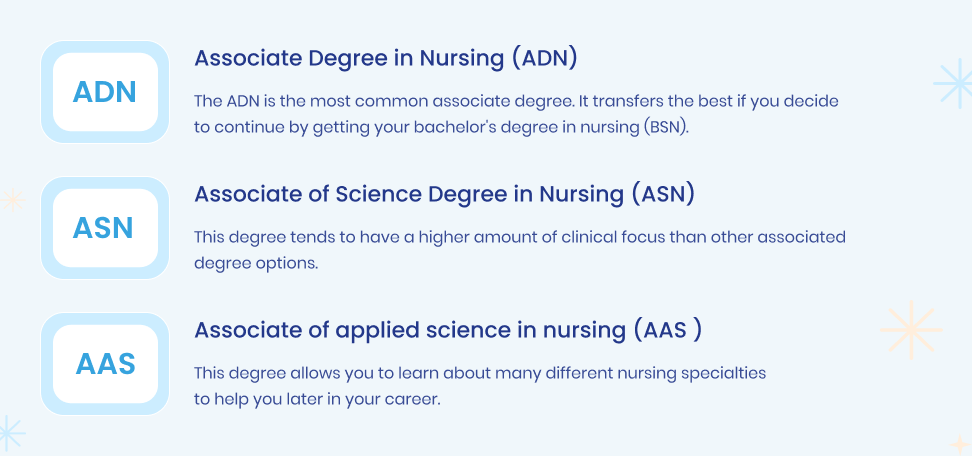 ADN Careers
The need for nurses is growing. As the population ages and more people experience chronic conditions, more people will require nursing care. Accordingly, the US Bureau of Labor estimates a 9% increase in RN growth from 2020 to 2030. 
However, various factors influence your career outlook and direction as an ADN nurse. They include: 
Location: Where you want to work can help determine your nursing career's course. Do you want to work in acute care, or do you prefer the outpatient setting? You can also work in a long-term care facility, at a clinic, or in a school. Population: What population do you want as patients? Would you prefer to work with children, premature infants, or older adults? You can specialize in any group or combine all.  Disease or health area: You can specialize based on specific health problems. For example, you can focus on cardiology, endocrinology, or mental health.
Nurses are well paid, and the job market is steady. Once you decide to study nursing, rest assured you'll have many career opportunities.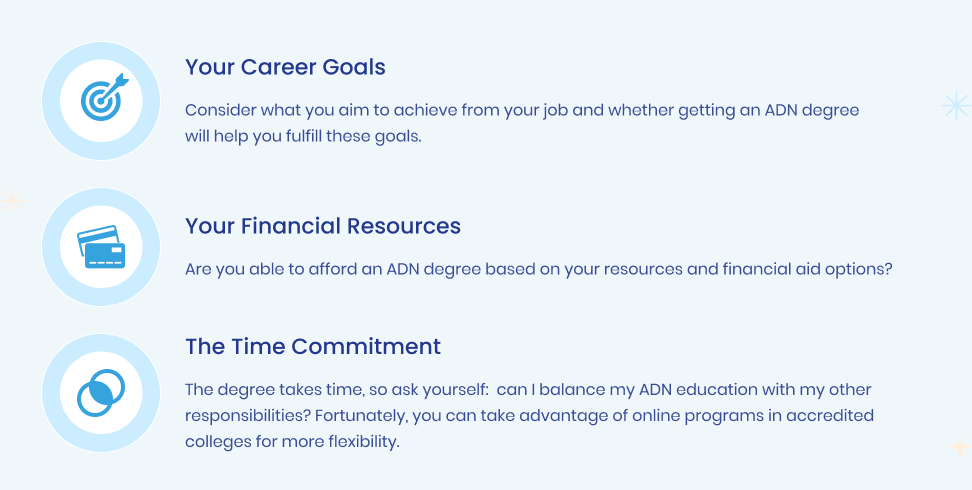 Do ADN and BSN Receive Equal Pay?
The short answer is no. Nurses with BSN degrees usually make more money than nurses with ADN degrees. However, your experience, workplace, and location may influence proceedings.
For example, working in acute care generally pays more than working in the outpatient setting. Likewise, practice in a specialty unit tends to pay more than working on the medical-surgical floor. So, as an RN with an ADN degree, you might make more money working in the hospital than a nurse with a BSN does at a doctor's office. 
As noted by Nightingale college, nurses with their BSN are more often in the upper 25% of RN wage earners. So, while the average income for RNs is around $80,000 a year, RNs with a BSN make closer to $93,000 a year. 
Is an ADN the Same as an RN?
No. An ADN is a degree you hold, while an RN is a specific certification. In other words, the former is an educational nursing program, and the latter is the status you assume upon succeeding at the former and the NCLEX. Note you can also become an RN through a bachelor's degree in nursing. 
Start Earning Your ADN Today!
Reaching the nursing career's pinnacle is a long, challenging process. Luckily, an ADN is a simple place to start. Securing this degree opens you to nursing opportunities and sets you up for advancements over time.  
"When you're a nurse, you know that every day you will touch a life or a life will touch yours." — Anonymous.