RN to FNP Programs
RN to FNP programs allow registered nurses to become family nurse practitioners – one of the fastest-growing professions in the country.
With the Bureau of Labor Statistics (BLS) projecting 100,000+ new nurse practitioner jobs over the next decade and similar responsibilities to physicians, there has never been a better time to become an FNP.
Keep reading to learn more about RN to FNP programs. You'll also get an overview of what family nurse practitioners do, steps to become a family nurse practitioner, and how to find the right RN to FNP program.
Key Takeaways
All family nurse practitioners must earn their RN licensure through a two-year ADN program or a four-year BSN program.
To become a nurse practitioner, you must complete a Master of Science in Nursing (MSN) program and earn nurse practitioner certification.
It usually takes six to eight years to become a family nurse practitioner.
Can You Go From RN to FNP?
Definition of an FNP
A Family Nurse Practitioner (FNP) is a medical professional that performs a wide range of patient health services from diagnosis to treatment. FNPs work across different specialties from pediatrics to geriatrics.
They play an avid role in performing physical exams, developing care plans, prescribing medications, and working with other healthcare professionals to develop a patient's treatment plan. Like actual doctors, family nurse practitioners double as primary care providers.
What Are Some of the Tasks FNPs Perform Daily?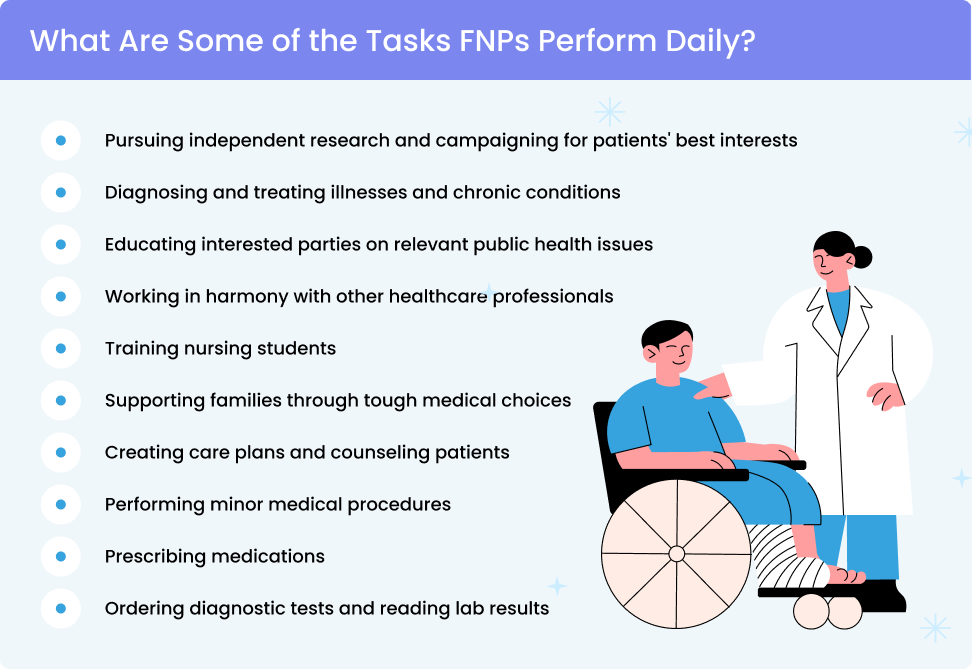 Here are some routine tasks FNPs can expect to perform:
Training nursing students
Creating care plans and counseling patients
Performing minor medical procedures
Supporting families through tough medical choices
Ordering diagnostic tests and reading lab results
Diagnosing and treating illnesses and chronic conditions
Working in harmony with other healthcare professionals
Educating interested parties on relevant public health issues
Pursuing independent research and campaigning for patients' best interests
Prescribing medications
What Focus Areas Are Popular With FNPs?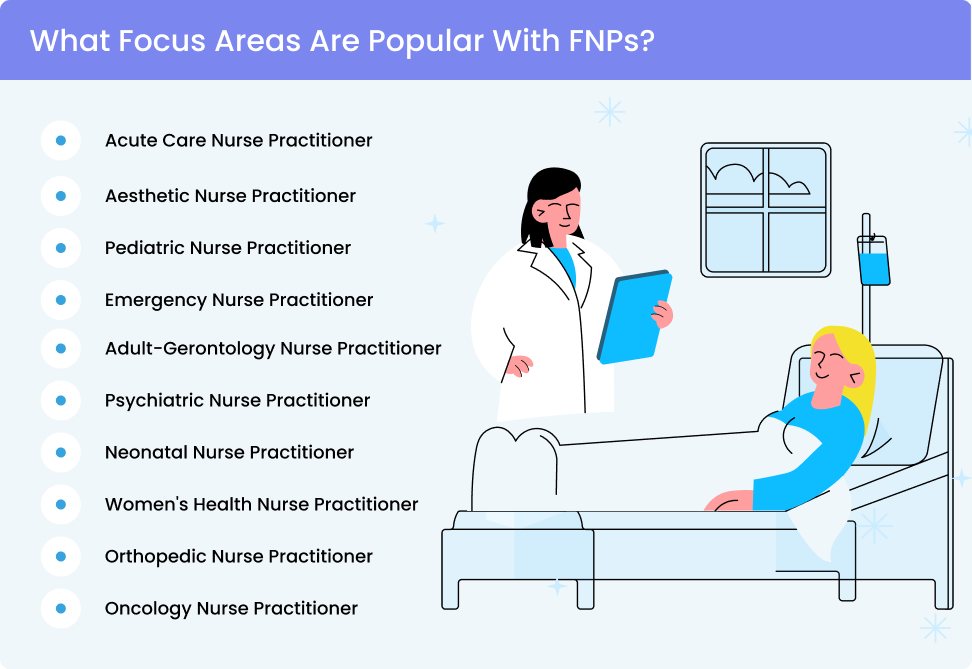 One of the best things about family nurse practitioners is the flexibility to specialize in different areas:
Acute Care Nurse Practitioner
Aesthetic Nurse Practitioner
Pediatric Nurse Practitioner
Emergency Nurse Practitioner
Adult-Gerontology Nurse Practitioner
Psychiatric Nurse Practitioner
Neonatal Nurse Practitioner
Women's Health Nurse Practitioner
Orthopedic Nurse Practitioner
Oncology Nurse Practitioner
These titles cover the entire health spectrum, from managing adults' chronic illness (adult-gerontology) to caring for premature and sick infants.
Some specializations are slower-paced than others, focusing on continuing education and counseling to otherwise healthy patients. Others involve handling high stakes, urgent situations in an emergency room.
What Are Some Benefits to Becoming a Family Nurse Practitioner?
Outside of the higher-than-average salary for nurses and broader responsibilities, here are some under-the-radar benefits to becoming a family nurse practitioner you may find intriguing.
Ability to prescribe medication
Ability to run your own clinic
Ability to work in all settings, including hospitals, clinics, and college campuses
Reporting to a physician is not required (in some states).
As of this writing, 20 states grant nurse practitioners full practice authority, while the remaining states require signoff from a medical doctor on select patient decisions.
Do Different Specializations Make Different Salaries?
Yes, the difference in salaries between specializations can range from minimal to significant. For example, the highest-paid nurse practitioners usually specialize in emergency medicine, critical care, psychiatric, surgical, and pain medication categories.
According to the BLSs, the highest paying nurse practitioner specialty in 2020 was a certified registered nurse anesthetist (CRNA), with a median hourly wage of $88.26 or $183,580 a year. The salary is well worth it, with up to 8 years of schooling required (along with a year of acute care clinical experience) to become a CRNA.
Rounding out the top five is Psychiatric Mental Health Nurse Practitioner ($139,976), Psychiatric Mental Health Nurse Practitioner ($139,976), Pediatric Nurse Practitioner ($131,302), Orthopedic Nurse Practitioner ($123,820) and Urology Nurse Practitioner ($120,545).
Keep in mind, NPs in two different states with the same specializations could earn different salaries. For example, California, New Jersey, Washington, New York, and Massachusetts-based nurse practitioners make the most.
Choose your path to go from RN to FNP
To become a family nurse practitioner, you must perform the following steps.
1) Earn your RN License
Earn your RN license by attending an accredited nursing school. Nursing schools' accreditation ensures their educational curriculum is held to the highest standards. Other benefits include eligibility for state and federal financial aid, transferring credits and hours, and the ability to sit for the NCLEX-RN.
Remember, the two top accreditation organizations are the American Association of Colleges of Nursing (AACN) and the National League for Nursing (NLN).
2) Pass the NCLEX-RN exam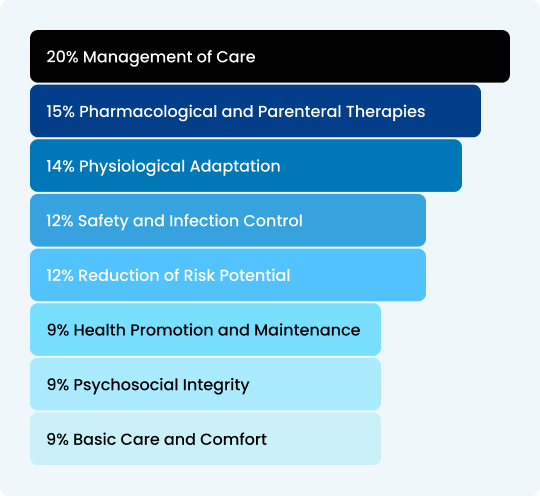 Short for National Council Licensure Examination, the NCLEX exam offers licensure for registered nurses. It covers all subjects taken in nursing school across eight key categories, which are listed below.
20% Management of Care
12% Safety and Infection Control
9% Health Promotion and Maintenance
9% Psychosocial Integrity
9% Basic Care and Comfort
15% Pharmacological and Parenteral Therapies
14% Physiological Adaptation
12% Reduction of Risk Potential
To take the NCLEX-RN, test takers must be graduates of accredited colleges or universities and pay all applicable costs, including test fees and individual state requirements. For each state's Nursing Board list of requirements, visit https://www.allnursingschools.com/how-to-become-a-nurse/nursing-license/
All exam test results arrive within six weeks. If you fail the test, you have the option of retaking the test after 45 days for a total of eight times a year. Hopefully, it doesn't take that many attempts to pass.
3) Complete Your License Application
After passing the NCLEX-RN exam, the remaining items to fulfill to receive your license include a background check and self-reporting any addictions/confirmation you are of high moral character.
Once both of these items are completed, you will receive your permanent license allowing you to work without any restrictions, as mandated by your state.
At this point, you may decide to work as an RN for several years to gain experience or continue schooling until you graduate as an FNP.
4) Pursue Your Master's Degree
All family nurse practitioners have a master's degree. Be sure to enroll in a CCNE accredited online or in-person master's degree program. These programs are very intensive, requiring a minimum of 500 clinical hours and a set number of patients worked with. Some accredited online APRN programs even require as high as 1000 clinical hours.
Here, you have the option of different pathways, including Accelerated RN to FNP and BSN to FNP programs. But, again, be sure to pick the right program based on your time commitments.
5) Take the FNP Certification exam
Upon passing the FNP certification exam, you will become a family nurse practitioner. It covers all of the subjects learned during your Master's Degree program, including pediatrics, psychiatric, and adult-gerontology.
Note that two governing boards administer the FNP certification exam – the American Nurse Credentialing Center and the American Association of Nurse Practitioners. Each has different formats and similar pass rates (8.2% for the 2018 ANCC and 86% for the 2019 AANP). Therefore, either exam is valid and able to certify you as an FNP.
If you fail the ANCC FNP certification exam, you can retake the test after 60 days and no more than three times in 12 months. If you fail the AANP FNP certification exam, test-takers must complete 15 continuing education hours with the subject they answer the most wrong questions.
There is no right or wrong answer regarding which test is easiest. For example, one nursing student may tell you that the ANCC is easier than the AANP and vice versa.
6) Apply for State Licensure
RN to FNP Process
How long does it take to go from RN to FNP?
Becoming an FNP takes anywhere from two to five years, depending on your schedule (full or part-time), the number of transferred credits, and your school's requirements.
How do I transfer from RN to FNP / NP?
Yes, it is possible to transfer from an RN to FNP/NP in two ways – an RN to MSN bridge program or a direct-entry MSN program.
Despite the fast track from RN to FNP/NP, it is essential to keep in mind MSN programs do not require prior nursing experience. MSN programs are heavy on clinical hours (think, 700 to 800, depending on the school) and intensive coursework, all of which can prepare you to become an FNP/NP without earning a BSN first.
In short, the path from RN to FNP/NP requires earning your MSN degree, completing your clinical post-grade hours, and applying for a nurse practitioner certificate and licensure.
Can you go from RN to NP without a BSN?
Yes, you may go from RN to NP without a BSN through an RN to MSN bridge program or a direct-entry MSN program.
How difficult is being accepted into an FNP program?
Difficulty in being accepted into FNP programs depends on the school. The average accep[tance rates for NP schools is in the 70% range versus less than 20% for some of the more competitive ones. To maximize your chances of being accepted into an FNP program, one of the main requirements is to have a 3.0 or higher GPA and excel in in-person interviews, which most nurse practitioners programs require.
Other factors used to determine your eligibility for NP programs include letters of recommendation from high-profile nursing professors or intern leaders
How many clinical hours are FNP program students expected to complete?
According to the 2016 Criteria for Evaluation of Nurse Practitioner Programs, nursing programs mandate a minimum of 500 supervised direct patient care clinical hours. However, some programs require as high as 1000 clinical hours.
What study programs do you recommend for RN to FNP students?
There are many organizations focused solely on test prep. Some of the best ones include Kaplan's Family Nurse Practitioner Certification Prep Plus program, which offers 800+ practice questions, two mini-prep tests, and a deep dive into best study practices.
This training program is equally suitable for FNP exams offered by the American Academy of Nurse Practitioners (AANP) and the American Nurses Credentialing Center (ANCC).
Are scholarships or grants awarded for RN to FNP students?
Yes, many scholarships and grants are available for RN to FNP students. Some include the McNeil Consumer Health Rural and Underserved Scholarship, Mildred Nutting Nursing Scholarship, and the Above and Beyond Scholarship.
Note, scholarships vary wildly in terms of requirements. For example, some may ask that you seek a higher nursing degree in an accredited nursing program, demonstrate financial need, or who can commit to a specific goal, such as working in a rural area for one to two years after graduation. Others may also require that you are an existing member of nursing organizations like the National Association of Pediatric Nurse Practitioners (NAPNAP).
To apply for financial aid, nursing students must fill out the Free Application for Federal Student Aid (FAFSA), a nationally recognized form schools refer to determine the amount of free aid awarded for each student.
How do I go about as an RN to NP without a BSN?
Registered nurses become licensed as nurse practitioners with an advanced or graduate degree, not a Bachelor of Science in Nursing. These include accelerated nursing programs, known as RN to MSN programs that bypass the Bachelor's Degree and take up to three years to complete.
Accelerated nursing programs are heavy on prerequisites and clinical workloads like the RN curriculum. Therefore, expect more anatomy, physiology, and math subjects.
Accelerated nursing programs are more rigorous than traditional ones with the same required clinical hours.
FNP Earnings & Jobs Outlook
How much do FNPs earn?
According to the 2020 Bureau of Labor Statistics, nurse practitioners earn a median annual income of $111,680 per year.
The highest paying states for family nurse practitioners were California ($145,970), New Jersey ($130,890) Washington($126,480),n, New York ($126,440), and Massachusetts ($126,050)
Within those states, the highest paying metropolitan areas/cities are all in California, including Vallejo-Fairfield, CA, the Bay Area, Salinas, San Jose-Sunnyvale – Santa Clara, and Napa.
What does the job outlook look for family nurse practitioners?
Like RNs, the job outlook for family nurse practitioners is auspicious. For starters, THE Bureau of Labor Statistics projects that there will be a 52% increase in employment through 2029.
Outside of a favorable jobs outlook, trade publications have sung the nursing practitioner profession's praises. For example, the US News & World Report ranks nurse practitioners first (Best Health Care Jobs for 2022) and made its way onto the list for 100 best jobs in America.
The combination of high earnings potential, a favorable job outlook, and strong reception with trade publications make the family nurse practitioner very appealing.
What if I want to practice nursing in multiple states?
Practicing nursing in other states is easy. If your state participates in the Nurse Licensure Compact (NLC) program, then you will be able to work in other participating states under the program. This is an excellent alternative for nurses continually on the go or who aspire to become travel nurses who enjoy higher hourly wages than most RNs.
Top RN to RN to FNP / NP Online Programs
There is no shortage of online programs for RNs looking to earn an advanced degree.
Here are five highly regarded programs along with their graduation rates and NCLEX-RN passage rates:
John Hopkins University. John Hopkins University has a long and distinguished history. Sitting in 1st place in Best Nursing Schools for Master's programs by US News and World Report, it is one of the country's oldest schools. In addition, it has earned accolades such as Best School for Men in Nursing by the American Association for Men in Nursing (AAMN) and the HEED (Health Professions Higher Education Excellence in Diversity) Award.
Vanderbilt University School of Nursing. Founded in 1908, the Vanderbilt University School of Nursing is one of the oldest nursing schools in the nation. Ranked No. 8 in Best Nursing Schools: Master's and #It consists of an online and on-campus curriculum with 630 required clinical hours.
The Ohio State University. This university has achieved many firsts, such as offering an MS in Nursing and a Ph.D. in Nursing in Ohio. Today, it offers the critically acclaimed OSU Family Nurse Practitioner program, consisting of online, offline, and clinical hours in various health settings.
University of Mississippi Medical Center (UMMC). Founded in 1948, the University of Mississippi Medical Center offers a Master's program requiring 630 clinical hours. One remarkable feat is its 100 percent pass rate on the NP certification exam.
Grand Canyon University. Grand Canyon University offers an RNTO fnpo to MSN online bridge program, adhering to all AACN, IPEC, and ANA standards. Like the University of Mississippi Medical Center, it also boasts high passage rates (95% in 2017)
All in all, becoming a family nurse practitioner is a strategic career move that opens the door to new opportunities, high earnings potential, and the ability to move into different specializations. Look into enrolling in an accredited and reputable RN to FNP program to give you the best chances for success out in the field.