Four Main Types of Nursing Degrees: Which One Is Best for You?
Choosing to attend nursing school is an excellent idea for one's future! Nurses seeking out Nursing Degrees is in high demand.
The Bureau of Labor Statistics predicts high potential for hire ability among nursing graduates, with employment predicted to rise 7 percent by 2029.
Nursing education requirements have undergone many advancements since the mid-20th century, and continue to do so. You'll want to understand the multiple degree types to find the most suitable track for you and your future.
Brief History of Nursing Education in the U.S.
In the United States, the first nursing school, Bellevue Hospital School of Nursing, was founded in 1873. This school's curriculum was based on ideas and guidelines established by the well-known nurse, Florence Nightingale.
Other schools soon followed, including Medical University of South Carolina College of Nursing, University of Maryland School of Nursing, and Johns Hopkins School of Nursing.
Classes included math, English, anatomy, physiology, biology, pharmacology, and pathology. Students learned skills like inserting urinary catheters, performing physical exams, changing dressings, administering medicine, and bedside manners. These skills are still taught in nursing education, but have been greatly expounded on over the years.
What to Consider Before Starting Nursing School
One of the key things to consider before you begin nursing school is the type of degree that's best for your future.
According to the StraighterLine blog, other nurses advise getting a Bachelor of Science in Nursing (BSN) right away, instead of a basic associate's degree, because employers are more likely to look for nurses with the former.
The other thing to consider is whether you're willing to put in the time and effort necessary to do well in nursing school and receive a strong GPA (grade point average). Your GPA will matter greatly to future employers, which means studying hard in school is critical for a successful future.
When it comes to choosing the right nursing school program, you'll need to figure out what you're looking for. How long the program is and what specialties you want to pursue will factor into your decision.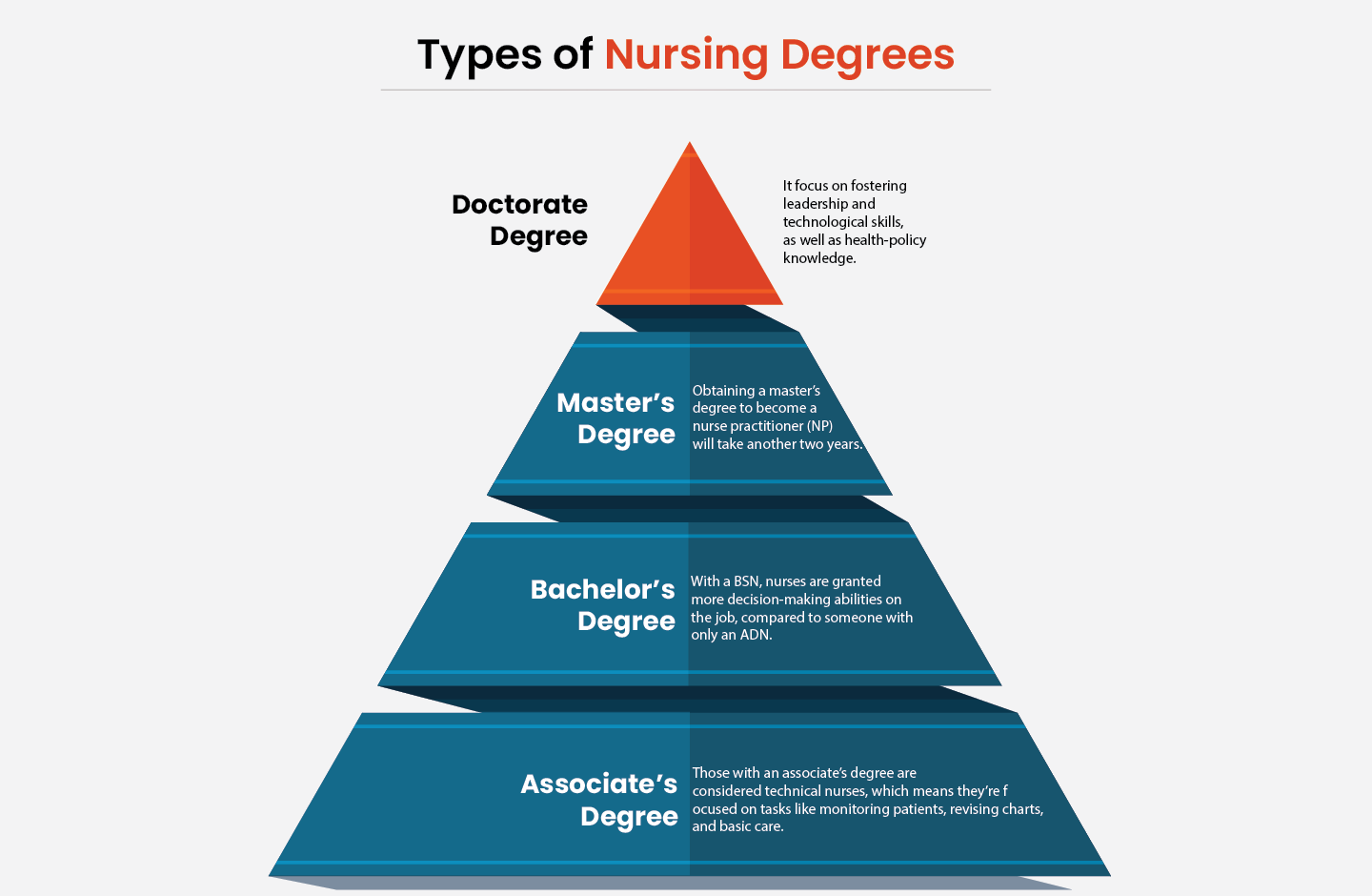 Types of Nursing Degrees
While BSN degrees are popular and in high demand, you can also consider an associate's degree, or move further along to pursue a master's or doctorate degree. The four main types of nursing degrees are described below:
Associate's Degree
If you're looking to get an Associate's Degree in Nursing (ADN), you'll spend 20 months to two years in school. Those with an associate's degree are considered technical nurses, which means they're focused on tasks like monitoring patients, revising charts, and basic care.
Requirements differ between states, so check your state's laws before applying. Some associate's degrees may not provide the prior education necessary for a nursing license down the road.
Bachelor's Degree
If you prefer getting a Bachelor's Degree in Nursing (BSN), it'll take around three years of schooling. With a BSN, nurses are granted more decision-making abilities on the job, compared to someone with only an ADN.
BSN nurses have a wider skill set when working with patients, and take on a greater administrative role as well. Research has also shown that nurses with BSNs have better patient outcomes compared to nurses with ADNs.
Any student who successfully completes a BSN program in the United States can obtain a nursing license in any state, countrywide. This qualifies you for the title of RN, or registered nurse.
Master's Degree
If you already have a BSN, obtaining a master's degree to become a nurse practitioner (NP) will take another two years.
However, if you only have an ADN, it'll take an extra three to five years before completing this degree. Your coursework will include women's health, pediatrics, family health, mental healthcare, and neonatal care.
Doctorate Degree
With a Master's Degree in Nursing, you can study for an additional two years to obtain a DNP (Doctor of Nursing Practice). Along with the clinical side of coursework, this degree will focus on fostering leadership and technological skills, as well as health-policy knowledge.
Job titles that DNP grads can follow include clinical researcher, healthcare executive, APRN (Advanced Practice Registered Nurse), and more.
Why Demand for Nursing Will Be Greater in the Future
In 2020, the COVID-19 pandemic impacted the entire globe, creating an overflow in healthcare facilities of patients suffering from serious pulmonary problems. Healthcare workers worldwide, especially nurses, were left working long hours to care for the increase in patients.
While this pandemic may be slowing down in certain parts of the world, due to the COVID-19 vaccine, experts predict that serious, contagious illnesses may become a more common issue globally. As such, this will lead to a greater demand for nurses worldwide.
After choosing the best nursing degree to meet your needs, you'll find that pursuing a career as a nurse will offer you well-paying and stable employment for years to come. In addition, you'll know that your role will help improve patient care every day.