How To Become An Registered Nurse (RN)
What is a Registered Nurse (RN)?
A registered nurse (RN) works alongside doctors and other nurses to deliver critical care to patients. The variety of roles you can choose from already once you have a registered nurse qualification are extensive, whether you're in a hospital, school, or private setting. And the opportunities for career progression are seemingly endless – whether you want to stay or even study further to become a nurse anesthetist, nurse practitioner, or more.
An RN's job role is, unsurprisingly, varied from day to day. And beyond a few core tasks, the location of your role will play a huge part in what you'll be doing. To give you a taste of what being an RN can involve, typical responsibilities include:
Assessing patients
Dressing wounds and injuries
Running and analyzing diagnostic tests; recognizing abnormalities
Administering medication and treatments
Helping doctors during surgical procedures
Reviewing and creating treatment plans
Drawing blood and collecting lab work
Educating patients and providing health advice
Communicate effectively with other healthcare professionals
Providing emotional support to patients and their families
What's the Difference Between a Registered Nurse (RN) and a Licensed Practical Nurse (LPN)?
Registered nurses and licensed practical nurses (LPNs) have very different jobs, and LPNs are less qualified than registered nurses. LPNs have earned a nursing diploma and must pass the National Council Licensure Examination (NCLEX) too. They report to RNs and carry out more entry-level duties, such as filling out medical records, assisting with medical tests, taking vital signs, basic care, and helping patients with daily tasks like eating and getting dressed.
Becoming an LPN is a great choice for someone who wants to start working as quickly as possible, as most courses only take between 11 and 18 months.
LPNs work in nursing practice at the bedside, in clinics, residential care facilities, and many other places that require nurses. An LPN salary is around half of that of an RN, but many LPN-to-RN courses are available if you're later ready to take your career to the next level.
Where Do Registered Nurses Work?
You can find registered nurses working round-the-clock in a whole range of locations, such as:
Hospitals
Medical offices
Outpatient care centers
Home healthcare services
Clinics
Nursing homes
But public health nurses can also take up roles in many schools, churches, community centers, government offices, and other communal spaces.
Are Registered Nurses in Demand?
The demand for RNs is rising, as the health needs of our aging population in the US increase. And this trend is only going to continue – the average age for an RN is 50 years old, and nurses tend to retire at an earlier age than many other professions.
The growth outlook for registered nurses from 2019 through 2024 is 15 percent, making now the perfect time to look into becoming an RN.
How Much Money Do Registered Nurses Make?
RN salaries vary widely from state to state. The level of education, type of nursing degree, and years of experience will also affect how much an RN earns.
According to the U.S. Bureau of Labor Statistics, the median pay of an RN in 2020 was $75,330.
How Do You Become a Registered Nurse?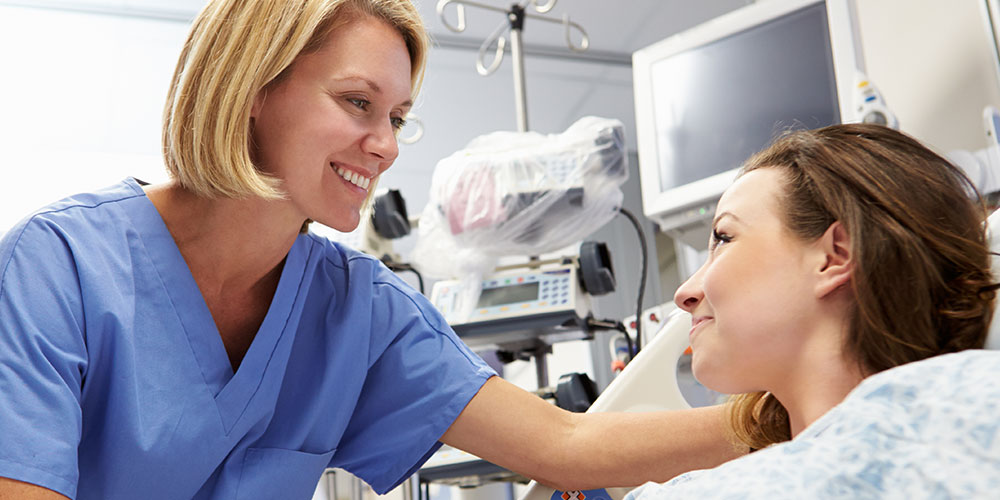 The exact requirements for becoming a registered nurse do vary between states. For instance, some states require RNs to hold at least a bachelor's degree, whereas others don't. Every RN will still follow similar steps to gain licensure.
The path to becoming an RN takes some time, but the outcome is a nursing career with so many different options and applications. Here's a full step-by-step guide on the general process of how to become a registered nurse.
1. Research career options for registered nurses
Before you take the leap into training to become a registered nurse, ask yourself – what type of RN do you want to become? What are your overall nursing career goals? This may determine the RN qualification you choose to take, as some roles require additional qualifications.
Having at least an idea of some nursing opportunities that interest you will also give you a clearer sense of direction as you complete your nursing education. Here are just a few common roles registered nurses can go into.
Critical care nurses
Critical care nurses work in intensive care units, trauma units, and medical flights. This fast-paced role includes monitoring patients in critical condition, administering medication, dressing wounds, and managing their pain.
Nurse case managers
Nurse case managers work in hospitals, long-term nursing care facilities, and health insurance companies. Suited to nurses with planning skills and attention to detail, NCMs plan patient care, manage patient caseloads, advocate on behalf of patients, screen hospital admissions, and more.
Medical surgical nurses
Medical surgical nurses work in specialized hospital medical surgical units. They have a varied role, seeing post-procedure patients of different ages, with different health issues. This environment is a great place for a less experienced nurse to learn and pick up experience.
Quality review nurses
Quality review nurses, or utilization review nurses, work at hospitals, insurance companies, medical centers, and doctors' offices, and sometimes do so remotely. This role includes discussing with patients the quality of care they received, reviewing care plans and ensuring they're followed, and managing insurance reimbursement.
2. Complete the prerequisites for a registered nurse qualification
Before you complete an RN qualification itself, you'll need to fulfill criteria to enroll in your chosen college. Here's what you're most likely to have to work through first in order to start your RN qualification.
GPA requirement
In order to apply for a nursing qualification, you'll need to have a high school diploma or GED. Some nursing schools will accept students with a GPA of 2.5. But others, usually those which are more in-demand, will ask for 3.0 or higher.
‌You must complete prerequisites in liberal arts, math, and science to enter a nursing college. Often, an establishment will also require a C grade course knowledge of basic anatomy, biology, physiology, and psychology too.
Nursing-specific exams
Many schools for nursing will require you to complete a test specifically designed for nurses. You'll be tested on the core subjects involved in the healthcare setting.
But it isn't directly related to the medical or technical skills needed for nursing – it'll test your character and intelligence. The test usually also rates you in areas like comprehension, communication, decision making, attitude towards stressful situations, and critical thinking. Two tests are commonly used for this – either the National League of Nursing (NLN) Pre-Admission Exam (PAX) or the Nursing Entrance Test (NET).
You may also be asked to complete a Kaplan Admissions Test, which measures aptitude in math, science in nursing, reading, writing, and critical thinking. It aims to help nursing programs assess the potential for a student to succeed in nursing college.
Beyond those listed here, there are a few other nursing-specific tests used by nursing schools – but these are less common. They include the PSB Aptitude for Practical Nursing Exam and PSB Registered Nursing School Aptitude Exam.
Healthcare exams
Many nursing schools use exams that are designed for other healthcare professionals, and not just registered nurses.
One of the most common healthcare exams used for aspiring nursing students is the Test of Academic Skills (TEAS). It measures applicants on their English, reading, math, and science.
The Health Education Systems, Inc. Admission Assessment (HESI A2) is another common choice for nurses, or students seeking degrees in other healthcare providers areas. It emphasizes scientific knowledge, but also tests students on their high school-level math and English, including a personality profile and learning style inventory too.
General exams
Many nursing programs want applicants to complete a healthcare-specific exam. But some require the results of different standardization tests – either in place of or addition to a nursing exam. These include seeing either SAT or ACT scores.
3. Earn a BSN or ADN degree
Registered nurses must hold either an Associate Degree in Nursing (ADN) or a Bachelor of Science in Nursing (BSN) in order to gain employment in the nursing field. You'll need to decide which is the best choice for you considering factors like how much time you can spend studying and your long-term nursing career plans.
ADN
Taking as few as 18-24 months, if you choose to study an associate degree you'll get out into the nursing field quicker. It's also usually less expensive, and your pay scale will begin at the level of a registered nurse.
However, most employers prefer to hire BSN degree graduates, and the scope of more senior job opportunities available to a nurse with an associate's degree is smaller. You may find you need to go back to school at a later stage in order to progress in your nursing career. While that can be a deterrent, some hospitals will help pay for their associate's degree nurses to enter on an RN to BSN program and gain their bachelor's degree.
BSN
The BSN program is a four-year bachelor of science degree. If you have the time to invest now, you may find you're more set up for a varied and progressive career in nursing further down the line.
A nurse with a BSN qualification is qualified for more jobs than an associate degree nurse, including roles in research, management, consulting, leadership, or administrative positions. The Institute of Medicine even recommended in 2010 that 80 percent of U.S. nurses should earn their BSN degree by 2020. While that hasn't happened, many in the nursing industry still believe a bachelor of science degree should be the norm for most registered nurse practitioners by 2030.
A BSN degree can be completed more quickly if you already hold a bachelor's degree in another field, by entering into an Accelerated Bachelors of Science in Nursing (ABSN) program.
4. Pass the NCLEX exam
Once each registered nurse has graduated from an approved BSN or ADN nursing program, they must take and pass the NCLEX exam. It's administered by the National Council of State Boards of Nursing (NCSBN), and is used to determine whether you're ready to gain your RN license and enter into entry-level nursing.  The NCLEX RN exam consists of at least 75 questions, and covers topics like:
Basic care and comfort
Disease detection and prevention
Pharmacological therapies
Coping and adaptation
If you don't reach a passing score after the first round of questions, you can answer up to 265 in total.
5. Gain your RN license
Once you've passed your NCLEX RN exam, you can apply for your RN license for the state in which you want to work. The process you'll need to follow to get your nursing license varies between states, and can have its own requirements, fees, and application waiting time. For a multi-state license, applicable if you want to be a travel nurse and work in different states for a few months at a time, apply for the Nurse Licensure Compact (NLC).
After you have your license, you've completed the first stage of your nursing education and can apply for jobs at your desired healthcare workers setting – whether that's in outpatient clinics, working with cancer patients, in residential care facilities, ambulatory care, educating patients, or countless other settings.
Financial support for nurses
Some applicants to a nursing program qualify for financial aid through loans, scholarships, grants, tuition reimbursement, and work-study programs. You must first fill out the Free Application for Federal Student Aid (FAFSA). The U.S. Department of Education will then figure out how much they think you can pay toward your course and how much they'll offer you to close the gap.
Private loans and scholarships can also be sought through banks and other professional organizations.
Further education in nursing
The road of your nursing education doesn't have to end with your Associate Degree in Nursing (ADN) or Bachelor of Science in Nursing (BSN) degree. Most registered nurses working currently will enter into continuing education, least of all because most states require this to keep your license current.
Registered nurses can study further to become a clinical nurse specialist, nurse anesthetist, certified nurse midwife, nurse practitioner, or more, with an Advanced Practice Registered Nurse degree (APRN). This requires studying for a Master of Science in Nursing (MSN) master's degree.
Registered nurses can also train to become specialized in oncology, gerontology, acute and critical care, or pediatrics. The possibilities for furthering your education through diploma programs, master's programs, and other education are almost endless.
‌‌