Top Nursing Student Loans 2022
Are you out of all options to fund your college nursing tuition? Why not consider one of the most reliable loan schemes of 2022!
Find out more about these loan plans, including their merits and demerits, and why we think they'd make an excellent source of funding for nursing students in this review.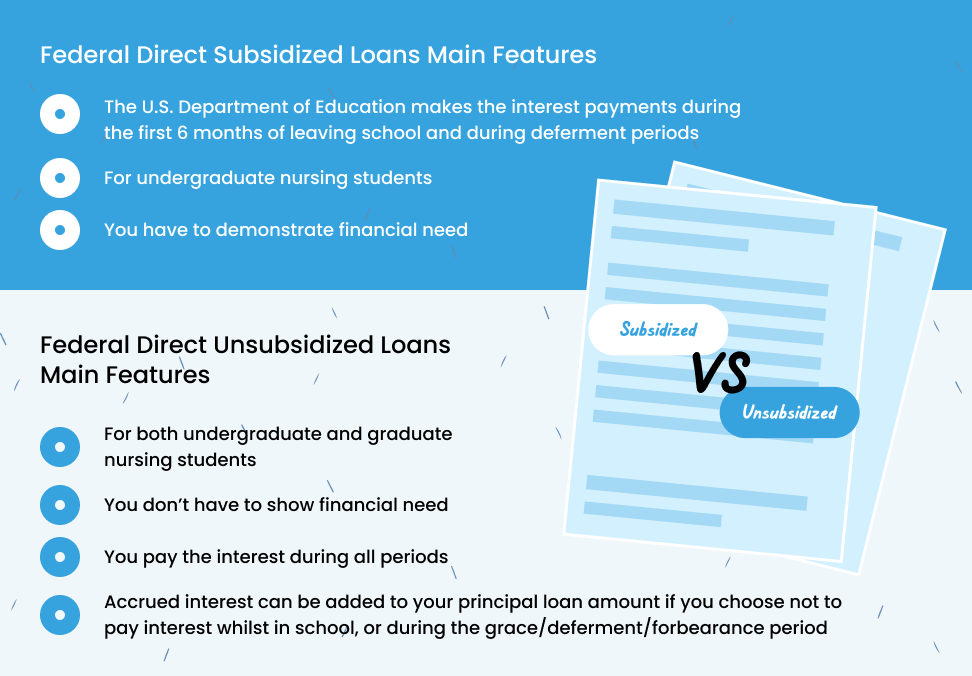 Best Nursing Student Loans Today: First Look
Best overall loan — Federal Subsidized and Unsubsidized Loans
Best for nursing students taking advanced degrees — Federal Grad PLUS Loans
Exclusive loan for health profession students — Health Resources and Services Administration (HRSA) loans for nursing school
Leading private nursing student loans — Sallie Mae Private Student Loan
Great non-standard loan terms — College Ave Private Student Loan
Special rates for health profession students — Discover Student Loans
Best option for international nursing students — MPOWER Private Student Loan
Top student loan service for Rhode Island students and residents — Rhode Island Student Loan Authority (RISLA)
Variety of student loan terms to choose from – SoFi Private Student Loan
Merit-based student loan company  — A.M. Money Private Student Loans
Top Ten Nursing Student Loans in 2022
Pros
Lower interest rates
Credit history or income not required
Eligibility to public service loan forgiveness programs
Flexible loan repayment plans
No interest during school or deferment periods for subsidized loans
Cons
There's an origination fee
Federal government loans are generally considered the best for college students. As such, these Federal Direct Subsidized and Unsubsidized Loans may be your finest choice as a nursing student today. Why?
First off, eligibility is open to all full- or part-time nursing students in a 4-year program, as the plan is to ease the weight of paying tuition on all college students.
Additionally, the direct unsubsidized plan grants students 10 to 25 years for full repayment, which beats the offer from most lenders. What's better?
There are a couple of flexible repayment options for students who face unexpected misfortunes.
Remember, you can apply for these loans in two main options;
Federal Direct Subsidized Loans
Federal Direct Unsubsidized Loans
The direct subsidized loans trump the latter, as the government pays the interest when you're not required to make payments, e.g., during the grace, deferment, or forbearance period. But there's a catch.
Not everyone can obtain subsidized federal student loans, hence unsubsidized federal student loans, which offer competitive features too.
Here's a summary of the main features these nursing student loans have;
| | |
| --- | --- |
| Federal Direct Subsidized Loans - Main Features | Federal Direct Unsubsidized Loans - Main Features |
| For undergraduate nursing students | For both undergraduate and graduate nursing students |
| You have to demonstrate financial need | You don't have to show financial need |
| The US Department of Education makes the interest payments during the first six months of leaving school and during deferment periods | You pay the interest during all periods |
| - | Accrued interest can be added to your principal loan amount if you choose not to pay interest while in school or during the grace/deferment/forbearance period |
From this overview, it's evident that Federal loans may be the best choice for students. However, they could be better without the origination fee, further inflating your student loan interest.
But on the bright side, these loans are undeniably the most reasonable plans in the US and offer the only way to have a chance at public loan forgiveness programs.
Pros
Covers any shortage in funding
Might get it with an adverse credit history
6 month grace period
Fixed interest rate
Cons
Are you a graduate or professional student in a college or career school looking to pay your educational expenses favorably?
The Federal Direct Grad PLUS loans cater just to you, as long as you're enrolled at least half-time in an eligible and accredited nursing school, meet the requirements for financial aid, and do not have an adverse credit history.
Well, even with an adverse credit history, all's not lost, as you could still get the student loan if you;
Get an endorser (someone who can pay the loan if you don't) with no adverse credit history
Provide sensible extenuation (justification) to the US Department of Education over your negative credit record
Again, if you meet the requirements with an adverse credit record, you'll be required to take the PLUS credit counseling program from the Federal Student Aid first.
Grad PLUS loans are beneficial if you want help handling fees that most financial aid programs don't cover. The loan amount you can receive in a year is the cost of attendance MINUS any other financial assistance you might be receiving.
Additionally, the loan attracts a fixed 6.28% interest rate through the loan life, and you get a grace period of 6 months after graduating from your advanced degree, leaving nursing school, or dropping from half-time enrollment to begin repaying your student loan.
Also, when you're not needed to pay the loan, e.g., during a grace, deferment, or forbearance period, the interest accrues, and you can pay the whole accrued interest or have it added onto your loan principal balance when the time comes to pay.
Pros 
Low interest
No credit history required
Fixed interest rate
Possibility of additional funding
Cons
Not offered in all nursing schools
Offering loans to financially disadvantaged students enrolled in health professions, the Health Resources and Services Administration is another federal government loan option you can explore.
The HRSA offers four main loan types: the Nursing Student Loans, a long-term student loan for students enrolled in full-time Associate, Bachelor, and Undergraduate programs.
Moreover, you should know that these loans aren't offered directly by the government, and your nursing school has to apply to the HRSA loan program for you to be eligible.
Also, HRSA partners with the National Health Services Corps (NHSC) Loan Repayment Program to allow you to work in an NHSC approved clinical site either full-time or half-time and have them pay up to $50,000 of your outstanding student loan.
Finally, as a government agency under the US Department of Health and Human Services, you can expect all the federal student loan benefits like low-interest rates, fixed interest rates, a grace period, the possibility of loan forgiveness, and more.
Pros
Covers up to 100% of school-certified costs
Multiple loan repayment options
No originator fees
Open to both full time and half-time students
Cons
Funds given depending on your credit history
Federal student loans aren't a guarantee, but that doesn't mean you should miss out on financing your nursing education.
Sallie Mae Private Student Loans seeks to go the extra mile, handling areas other loans don't; funding up to 100% of school-certified costs, whether big, e.g., tuition and housing, or minor, e.g., library and books.
This loan is open to any undergraduate or graduate student, whether half-time, online, full-time, or campus. Even so, Sallie Mae offers an outstanding loan for graduate students in health professions, including one for graduate nursing students.
There's a 94% approval rate with the graduate nursing loan if you apply with a cosigner. Also, you get to choose between variable (4.37 – 11.62% APR) or fixed interest rates (6.87% – 13.99% APR).
Apart from that, we like that Sallie Mae grants you multiple repayment options;
Pay $25 a month while in nursing school and during your 6-month grace period
Pay your monthly interest while in school and during your grace period
Pay everything after you finish school
Although convenient, the pay after school option may be expensive. So, if you're in the position to make in-school payments, you might want to go with that and get benefits like an interest rate or loan cost reductions.
Pros
Wide selection of repayment options
Student loan refinance option available
Fast and instant application
No origination fee
Cons
Cosigner release may take a while
Is there a gap left by prior financial assistance, or do you need to cover a summer session, and you're wondering how you'll finance everything?
College Ave Private Student Loans may be an excellent choice to explore. Besides, they might be the most flexible private loan option for nursing students.
The student loan service offers loans to undergraduate students (0.94% – 12.99% APR), graduate students (1.99% – 11.98%), and parents (1.04% – 12.99% APR), while also offering refinancing options (2.94% – 5.09% APR) to students who want to reduce loan payments or interest rates from other loans.
Applying for the loan takes just 3 minutes, and you can find out instantly if you're approved for the loan. There's a 90% chance of approval for undergraduate nursing students if your cosigner has a good credit score.
The only thing is that cosigner release here is a bit of a hassle, as you'll need to be at least halfway through your loan repayment for them to be eligible for release.
In summary, College Ave loan terms take 5, 8, 10, or 15 years, and while you can opt for the deferred payment, you can as well choose to repay the loan using the below options while in nursing school to save some money;
A flat charge of $25 a month
Interest-only payment
Full principal and interest payment
6. Discover Student Loans — Special Rates for Nursing Students in Health Professions
Pros
Better rates for grad students in health professions
Cash rewards for good grades
9-month grace period
Great customizable repayment plans
Cons
As far as private student loans go, Discover Student Loans seems to offer one of the most comprehensive loan services for college students, including refinancing options for those seeking better repayment terms on other loans.
Discover also gives quite competitive interests for undergraduate and graduate nursing students as far as private loan agencies are concerned. There are special rates for graduates in health profession programs, nursing included.
Discover's variable rates range from 1.99% – 6.24% APR while fixed rates range from 3.99% – 6.99% APR for undergraduate student loans.
What's better? The most creditworthy applicants can have a lower APR. Alternatively, you can apply with a creditworthy cosigner to land better interest rates if your credit is not very worthy.
A slight downside is that undergraduate and graduate students are limited to a 15 year and 20-year loan term, respectively.
But more positively, the loan ranges from $1000 to your cost of attendance, and with good grades, one-time cash rewards of up to 1% of your loan amount, not to mention interest rate reduction benefits for automatic payments.
Pros
No cosigner needed
Flexible funding options
Multiple interest discount options
Exclusively for international students
Cons
Probably the most convenient option for international nursing students in the US and Canada, MPOWER awards loans to students without needing a cosigner, US credit history, or even collateral. How great?
The private student loan program cuts across 190+ nationalities and over 350 schools across Canada and the US, so there are good odds you might get approved, as all you have to do is show excellent potential.
Not just that, the nursing student loans here are pretty flexible, and you can get anything between $2000 – $100,000. Plus, the site offers different interest rates according to location, program, and level.
You can get the discounts in a series of ways, namely;
Enrolling in an autopay system – 0.50% interest reduction
Making six consecutive autopayments – an additional 0.50% reduction
When you get full-time employment after graduation – another 0.50%  interest reduction
Cumulatively, the interest discounts come to 1.5%, making the whole loan even more affordable.
However, you'll be charged a 5% origination fee to process the loan, and this amount is added to your student loan debt.
Pros
Income-based repayment option
No origination charges
Good borrower protection features
Rewards for nursing students
Cons
Hard to release the cosigner
Are you a Rhode Island student or a resident looking to pursue a loan for your nursing education? The Rhode Island Student Loan Authority might be your best option yet.
RISLA promises straightforward interests, cosigner release, discounts on auto-payments, and borrower protection features on its loan offers to undergraduate students, graduate students, and parents,
Talking about borrower protection, RISLA seems to be a considerate lender, offering a variety of loan forgiveness measures to eligible students if everything doesn't go to plan.
These include;
An income-based payment that overtime reduces your monthly payment to manageable amounts
Total and permanent disability discharge
Military 6% interest cap when on active duty
Potential loan forgiveness in case of student death
What's better? Nursing students can earn an extra $2000 in loan forgiveness on non-federal student loans when they complete Rhode Island internships, and no interest is charged up to 4 years working as a new Rhode Island nurse.
RISLA student loan terms are limited to 10 or 15 years, and the interest rates range from 2.99% – 4.74% APR with autopay payments, as autopay attracts a 0.25% reduction.
For most people, you'll need a cosigner to apply, and the cosigner has to demonstrate that they make at least $40,000 yearly, which may be a bit steep for some.  Even so, only after making 24 consecutive timely payments on your immediate and deferred payments can the cosigner be released from the contract.
Pros
Unemployment protection
Multiple repayment terms options
Continuing scholar discount
No fees
Cons
$5000 minimum loan amount
No cosigner release
If you're taking a bachelor's or higher degree in nursing,  SoFi private student loans offer financial lending to undergraduate and graduate students at no extra fees! Furthermore, the private student loan company offers 5, 7, 10, or 15-year loan terms, so there's the right fit for everyone!
You can apply for the private student loan with or without a cosigner, although the former may facilitate improved loans, lower interest rates, and generally higher chances for approval.
The minimum loan amount you can borrow is $5000, which is higher than most private student loan lenders offer, but if you need that amount or more, then SoFi has you covered.
Additionally, the service gives you the option to choose between fixed and variable interest rates. They range from 1.95% – 11.68% APR, with the possibility of lower fixed rates if you select an in-school auto-payment option.
Leave alone the variety of loan terms, SoFi also provides you with four ways to pay your loan;
Deferred payment – begin six months after graduation
Interest-only cost (in-school) — only pay the monthly interest
Partial monthly payment of $25
Immediate payment — start paying the principal and interest right away
In summary, if you had successfully gotten a SoFi student loan before, you're awarded a continuing scholar discount of 0.125%.
Pros
Qualification based on academic performance
No cosigner required
Income-based repayment option available
Fixed rates for all borrowers
Cons
Limited schools
Origination fee
Taking a unique approach to most lenders, A.M. Money Private Student Loans judges you according to your academic record rather than credit score. Similarly, you don't need a cosigner to apply for the loan.
However, only students in 22 schools in the US that partner with A.M. private student loans are eligible for these offers.
A.M. Money offers between $2001 and $50,000 with fixed interests from 7.53% – 8.85%. What you get depends on your time left in school.
The loan term lasts ten years, and if you encounter some financial instability, there's a helpful Income-based repayment option (IBR) that helps you reduce your monthly payments for 36 months.
Student Loans for Nursing: FAQs
What's the Best Nursing Student Loan?
The Federal Subsidized and Unsubsidized Loans is widely agreed to be the best nursing student loan. The loan affords you low-interest rates, overlooks your credit history, and gives you more flexible payment options. In fact, with the Federal Subsidized Loans, everything is made even cheaper as the government foots the interest during grace, deferment, and forbearance periods.
However, suppose you don't qualify for the Federal Subsidized and Unsubsidized loan. In that case, the Federal Grad PLUS Loans and the Health Resources and Services Administration (HRSA) loans for nursing schools make a second option as they also have reasonable interests and payment options.
Do Nursing Student Loans Qualify for Loan Forgiveness?
Yes, nursing student loans qualify for student loan forgiveness programs. If you have any federal student loans, you might be eligible for the Public Service Loan Forgiveness program, provided that you practice in a government or non-profit health facility or organization.
If you meet the above requirements, the PSLF program can clear your outstanding loan balance tax-free if you make 120 monthly payments towards servicing your loan while working full-time for an approved employer.
Moreover, you could apply to programs like the National Health Service Corps Loan Repayment Program (NHSC LRP) or the Nurse Corps Loan Repayment Program. You have them service your loans in exchange for your practice in their approved health facilities.
How Much Do Nurses Owe in Student Loans?
According to the National Students Nurses Association and the American Association of Colleges of Nursing, nurses owe about $47,000 on average in nursing student loans. In unpaid nursing education debt, most nurses fall between the $40,000 to $55,000 range.
How Is the Interest Determined for a Private Student Loan?
The applicant's creditworthiness determines the interest rate for a private student loan. You'll get lower APR interest rates if you have a positive credit history, while average or adverse credit histories might attract higher interests.
Consequently, if you can get a cosigner with a long and favorable credit record, they may earn you better interest and approval rates.
On the other hand, variable rates change depending on the market loan index, as opposed to your credit score.
What Is a Cosigner Release?
A cosigner release is when a cosigner (someone who'd pay the loan in case you failed to) is freed from a student loan contract, rendering them no longer responsible for any repayment in case you're unable to pay.
Most lenders prefer that you apply with a cosigner for security reasons, and a cosigner with good credit records increases your chances of landing a loan at favorable interest rates. Typically, the cosigner is released from the bond after the borrower makes a particular payment toward the loan.
Best Loans for Nursing School 2022: Conclusion
For the average nursing student, comfortably paying academic-related expenses while in nursing school can be a burden, hence the need for nursing school loans. Looking at the loan services reviewed above, you can get the right option to finance your education.
The Federal Subsidized and Unsubsidized Loans stand as the best loan for many reasons: high approval rates, flexible payments, and low interests, while also giving other advantages of a federal student loan.
Nonetheless, Federal Grad PLUS Loans and the Health Resources and Services Administration are outstanding government loans, too, especially for their focus on graduate nursing students and health profession students, respectively.
Still, if your federal loan leaves a gap in your expenses, or if you exhaust other financial aid choices, private loans are worth considering too, and we have given you the leading private student loans that may just fit your bill.