Are You Getting an AAs Degree? (the Associate of Applied Science) – the Definitive Guide!
Do you want to get to work as soon as possible? Then an Associate of Applied Science, aka AAS degree, is something worth learning more about.
There are plenty of areas you can specialise in after getting your AAS degree, such as the nursing field, child care, gerontology and much more, which we will take you through.
So read on to discover the steps you can take to gain an AAS degree, what fields you can get into, and if it's worth it for you.
Let's get to it!
Advantages of Getting an AAs Program
There are plenty of benefits of getting an Associate of Applied Science, such as more job opportunities, added flexibility and lower cost! Let's take a closer look at some of these advantages:
Better Career Opportunities
Whether you're advancing your career or you want to work straight out of college, an AAS degree can help you achieve that. Most of the fields you can get into after earning your degree are healthcare, technology or skilled labor.
Plus, chances are you're able to earn more in your workplace after receiving your AAS degree.
Faster Process
It usually takes around four years to earn a Bachelor's degree. However, an Associate of Applied Science degree will take you around two years.
Plus, some universities offer an even more streamlined process that could provide you with a degree in as little as 15 months!
The shorter time it takes for you to get your degree, the quicker you can be out in the workforce without spending extra time in the University.
According to the U.S. Bureau of Labor Statistics, individuals with an Associate degree earn almost $8000 more annually than those with a high school diploma.
Affordable
It goes without saying that an Associate of Applied Science degree will cost you less since the length of the course is much shorter.
A Stepping Stone to Further Education
If you want to expand your career opportunities even more, an AAS degree is a great way to do that. It's an effective route to getting your Bachelor's degree faster by applying the credits you earned with your Associate degree towards your further education.
How to Get an AAS Degree
Now that we have established the benefits of an Associate of Applied Science degree let's talk about how to earn one.
First, determine the amount of time you wish to spend on getting your Associate's degree. There are part-time options if you're already working or have little time to dedicate to your studies. This option takes anywhere between three to six years.
Whereas a full-time course length is usually around two years, with accelerated alternatives available, – that is little as 15 months.
Also, to receive an AAS degree, you'll need to have at least 60 credits, which half of what's needed for a bachelor's degree. Lastly, there are many reputable online sources where you can get your applied science AAS degree, depending on your chosen field.
AAS General Education Requirement
There is an AAS General Education degree available, where you'll need to take general education courses like mathematics, English, science and other elective courses like music or political science. This is ideal for students who don't have a specific major in mind.
It's also vital that students earn a minimum of 14 credits of general education requirements before earning an AAS degree.
Associate in Applied Science in Nursing
If you're interested in becoming a nurse, an Associate in Applied Science in Nursing is a great stepping stone to achieving that.
What Is a Social Science Associate Degree?
The A.S degree is a type of transfer degree for students who wish to major in topics like mathematics, chemistry, physics, biology or a similar subject. After which, you can transfer to a four-year institution to earn a BA.
What to Look For in an AAS Degree Program
There are several factors you should look out for when choosing an AAS degree program.
Many universities offer online and in-person programs for extra flexibility. Plus, you should think about how getting an AAS degree will allow you to advance your career or skillset. This will depend on the field you choose to go with.
Cost is another crucial point. Depending on the quality of the certificate program or university, the costs will vary. Other influences such as the school's location, will affect the total cost. Check if the program you're interested in accepts financial aid.
After successful completion, if you want to enrol in a four year BA program, it's vital that you check the different credit transfer policies since they can differ between universities. Note that some colleges may accept fewer transfer credits if you're switching majors.
What Are the Career Options With an AAS Degree?
Luckily, there are plenty of job options if you hold an Associate of Applied Science degree from a reputable university. Some of these include:
Medical Sonographer
Physical Therapist Assistant
Dental Hygienist
Respiratory Care
Paralegal
Radiologic Technologist
Chemical Technician
These are just a few of the fields you can get into with the help of an Applied Science AAS degree.
What Specific Degrees Can I Get?
Here are the different types of Associate degrees you can earn.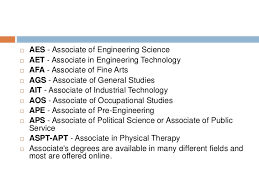 Transferring an Associate in Applied Science (A.A.S.) Degree
As mentioned before, an AAS is not usually used as a transfer degree since its purpose is to prepare you for your workplace. However, some Universities allow you to transfer to a four-year course after earning an AAS.
It's a good idea to have a meeting with your counsellor or academic advisor to see what next steps you can take in your education and if you can come up with an articulation agreement.
Are You Getting an A.A.S Degree?: FAQ
What Is an A.A Degree?
The Associate of Arts (A.A) degree is very similar to the A.S degree, in the sense that they are generally general transfer degrees. Students pursuing an A.A, must complete additional credit points in either humanities or social science. This includes a foreign language, as well.
Is an AAS Degree Right for You?
If you're considering a specific field such as IT or healthcare, then an AAS Degree is an excellent choice to make. It's a fast track way of getting yourself out there and gaining some real-life work experience. If you wish to go back, various universities will accept the AAS credits towards your BA.
Is It a Waste of Time to Pursue an AAS Degree?
It's definitely not a waste of time to pursue an Associate of Applied Science. Not only will it strengthen your resume and land you a job faster, but it's also a great way to advance your career further and apply for a pay raise! While it's not a prerequisite when job hunting, it certainly helps.
What Are the Best Associate's Degree Programs?
Fortunately, there are many great programs out there. Currently, the highest paying Associate degrees are :
Associate of Air Traffic Control
Associate of Computer Science
Associate of Transportation Management
Associate of Logistics Management
Associate of Radiation Therapy
A.A.S Technical Degree, is it Worth it?
Yes, if you wish to get into a more technical field, then an A.A.S Technical Degree is worth it. It will expose you to better job opportunities, increased pay and help you expand your skillset.
A.S vs A.A.S in Computer Science?
Whichever associate degree program in computer science you decide to go for, know that there are some key differences.
For example, an AAS is primarily designed to prepare you to start your career after school immediately. At the same time, an Associate of Science degree (AS) is a type of transfer degree that prepares students for the Bachelor's degree program.
Therefore, it depends on what you want to do after your two-year course is over. Know that you can still pursue further education with an AAS degree, but it's not as simple a process as with the Associate of Science degree.
Are You Getting an AAS Degree? : The Takeaway
Hopefully, by now, you're more educated about the different Associate degrees and the benefits of having one. So whether you're ready to jump into working straight out of college or you want to go further in your career, it's worth looking into an AAS. Thanks for reading.