MSN Degree – What Is a Master of Science in Nursing and How It Can Help You Advance Your Career?
With soaring demand for nurses in the US, an MSN degree could help you land the job you want and open up many career opportunities in both bedside and administrative roles.
Today, we're going to take you through the different ways you can gain your MSN degree, the benefits of having one, and the type of nursing roles you can expect.
Let's get to it!
What Does MSN Degree Stand For? MSN Degree Definition
An MSN program, otherwise known as a Master's Degree in Nursing (or Master Of Science In Nursing) is a program that allows nurses to specialize or advance in specific areas.
You can complete an MSN degree in 12 months or 3 years, depending on how you take it. It's necessary if you wish to apply for Doctorate Studies in Nursing (Ph.D.).
There are plenty of fields to choose from such as Nursing Administrators, Clinical Nurse Educators, or Clinical Nurse Leaders.
There are also several MSN degree specifications to choose from, including mental health, nurse anesthesia, disability studies, nurse-midwifery, and more.
It's important to note that you can still get the MSN degree if you hold a Bachelor's degree in a non-nursing-related field, which is excellent news for individuals who wish to pursue a career in nursing with no prior experience.
Is an MSN the same as a Family Nurse Practitioner?
Both fields differ from each other, as you'll see now.
An MSN or BSN degree is something you'll need in order to apply to become a Nurse Practitioner (NP) – which is also the minimum requirement for some hospitals.
And that's not all – NPs also have an NP-focused graduate master's or doctoral nursing program and pass a national NP board certification exam.
An NP is responsible for offering more complex, clinical care. Therefore, NP programs teach students how to carry out specific roles that RNs can't or aren't licensed to.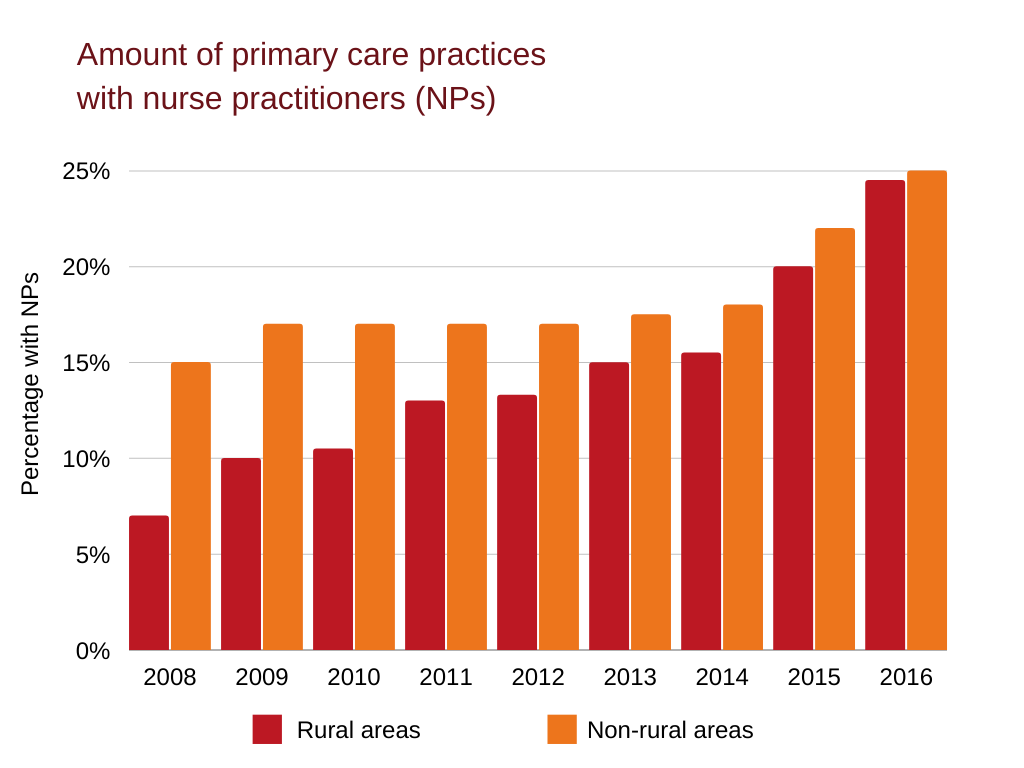 Due to the extent of their education, NPs are crucial for primary care practices, and the amount present has increased significantly
NPs often specialize in women's health, geriatric care, and other areas.
Nurse Practitioners are often referred to as APRNs (Advanced Practice Registered Nurse). If an APRN holds many years of experience, they can open their own independent practice.
How to Get a Master's Degree in Nursing (MSN) – 4 Routes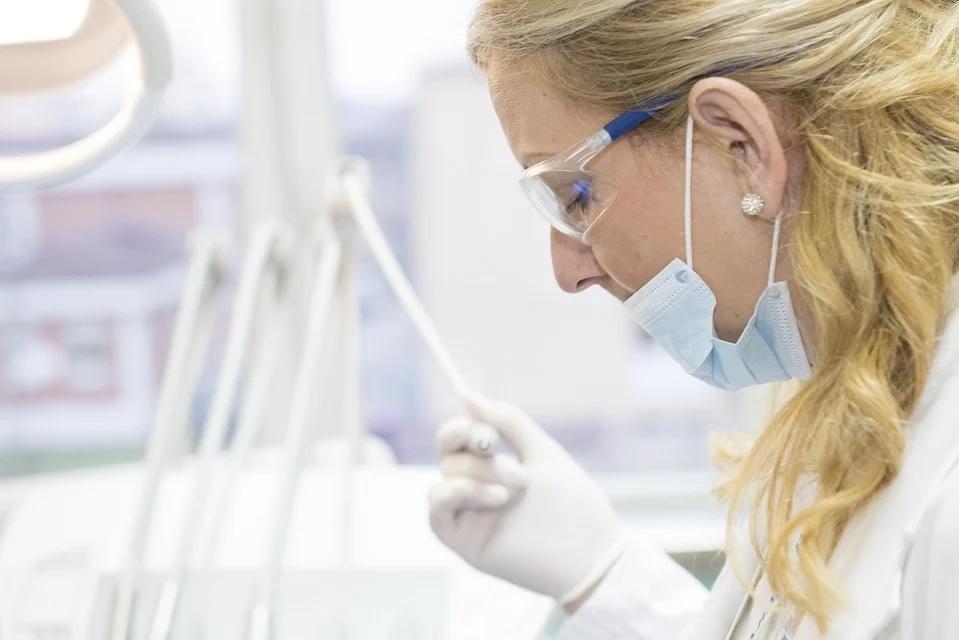 Whether you're starting from scratch or building upon a previous degree, there are multiple routes to an MSN degree.
Many courses feature full-time and part-time options.
It's easy to find a learning style to suit your lifestyle, so don't worry if you have kids or if you're already working as a nurse – you have options to learn at your own pace.
There are 4 main routes to an MSN:
1. BSN to MSN Programs
If you already hold a Bachelor of Science (BSN) in nursing or a different field, a BSN-to-MSN learning program is the simplest way to do so.
It's a great path if you're already a nurse and want more responsibility in your role, whether that's nursing education, administration, or patient care.
Most of these programs require a minimum of 200 clinical hours, and while other, more specialized fields may even demand 600 hours.
Many programs also ask for letters of recommendation, statement of purpose, or even a resume before entering the MSN program.
Nurses with a Bachelor's Degree (BSN) can choose from a part-time or full-time learning structure, and the accelerated programs allow you to finish the entire course in less than 12 months.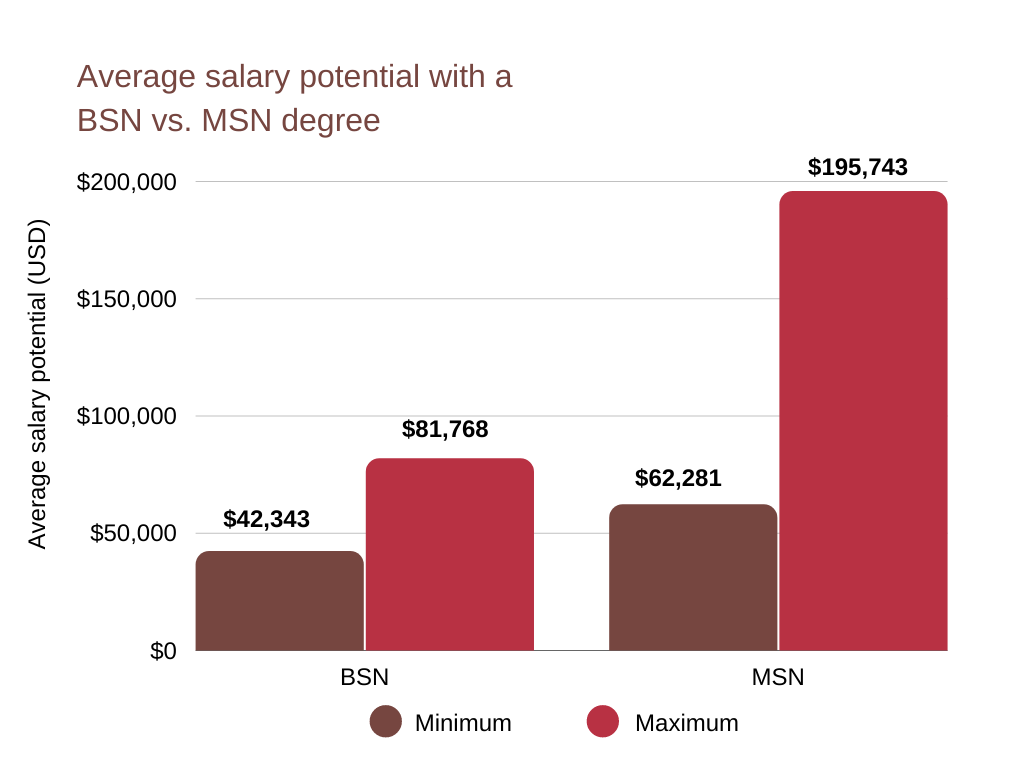 Upgrading your program might also pay off salary-wise, as people with MSN degrees have a higher salary potential
2. ADN to MSN Programs
If you hold an associate degree in nursing and wish to further advance your career, then the ADN-to-MSN program is a great option to consider.
This route is also helpful for those nurses who wish to become nursing leaders within their community and help guide the next generation of nurses.
An ADN-to-MSN program is also known as an RN-to-MSN program.
You'll need an active RN license to apply for this program. Other requirements include:
Proof of an ADN Degree
Accepted GPA score
Proof of additional test score
Statement of Purpose
Letter of Recommendation
You're able to continue working while completing the clinical requirements and curriculum of the MSN course.
Plenty of online courses provide some flexibility for working nurses, such as asynchronous classes and part-time/ full-time course schedules. Usually, nurses complete this course within 21 months or less.
3. ASN to MSN Programs
If you hold an Associate of Science in Nursing and an RN license, you're also qualified for the MSN nursing degree program. The admission requirements are quite similar to the ADN-to-MSN and RN-to-MSN programs.
You'll need:
Valid RN license
Associate Degree In Nursing proof
Suitable GPA score
Criminal Background Check (sometimes)
State Of Purpose (sometimes)
Resume (sometimes)
Letters of Recommendation (sometimes)
After being accepted into the MSN course, you'll need to choose a specific type of MSN specialization. These include:
MSN-Adult-Gerontology Acute Care Nurse Practitioner
MSN-Certified Registered Nurse Anesthetist
MSN-Neonatal Nurse Practitioner.
During the program, you'll complete BSN-level studies and incorporate clinical requirements to gain more hands-on experience.
You can keep working as a nurse on this program since most institutes offer flexible coursework times.
While there are accelerated options available, most nurses take 2 years to complete the ASN-to-MSN Program.
4. RN to MSN Programs
If you're a registered nurse, you can apply for the RN-to-MSN learning program. This enables nursing professionals like you to enter the nurse practitioner field quicker, minus the high cost. This is better than the traditional way of earning a bachelor's degree first.
Most requirements vary by school; however, all applicants must hold a valid RN license.
Other requirements include owning an associate degree in nursing and having the necessary GPA score. Other institutes may ask for a criminal background check, resume, statement of purpose, and a letter of recommendation.
During the program, you'll need to complete the BSN-level studies, and after, choose an MSN nursing specialty you want to pursue. You'll also need to meet the clinical requirements, which can be up to 200 hours.
Plenty of nurses continue working while studying, and you can choose from part-time or full-time course lengths, which will affect the duration of the program.
The course takes up to 3 years to complete, with some universities offering accelerated options – cutting it down to about 18 months.
How Can I Get an MSN Without a Nursing Degree?
You don't have to be a nursing professional to pursue an MSN degree. You will, however, need a BSN degree – a Bachelor's Degree In Nursing. Plus, some nursing programs even allow non-nursing degree-holding students to gain an MSN degree.
It depends on the school.
If you're interested in a nursing degree; take a look at these best online nursing programs that will help you earn a respected nursing degree. Check out the best nursing schools too for more information.
Career Options For A Masters In Nursing (MSN)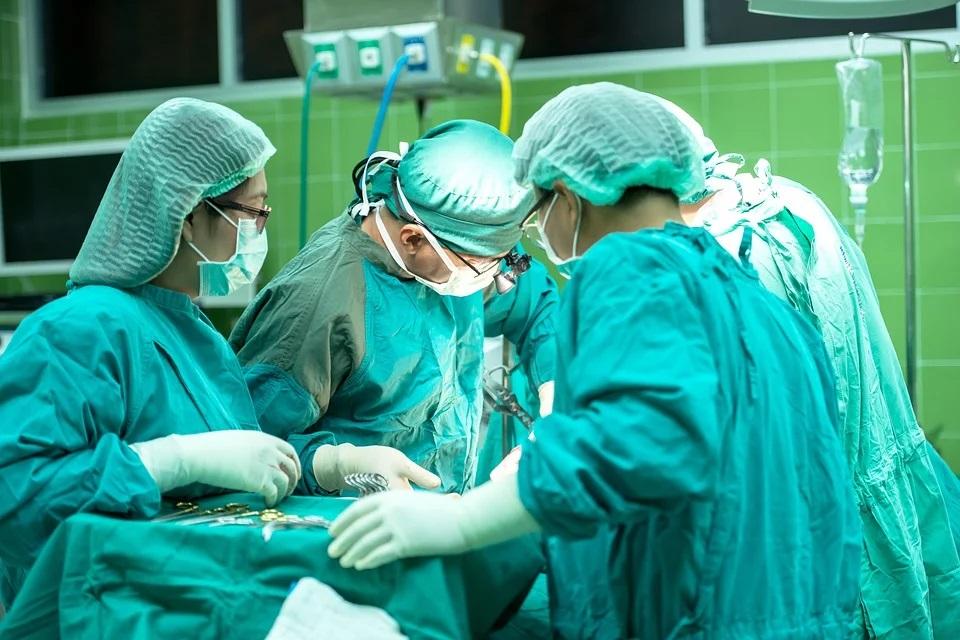 Now we're going to take a deeper look at some MSN career program options nursing graduates can consider.
Before we get into it, know that these are just some career roles you'll face; there are plenty of other fields you can get into and gain suitable work experience from.
Bedside Nursing Roles For Master Of Science In Nursing (MSN)
Bedside nursing is a vital and basic nursing role. You'll need to make sure the patient's needs are met so they can recover as much as possible no matter the severity of their condition.
Not only that, as a bedside nurse, you'll also need to make sure the patient's emotional needs are taken care of, as well.
Because bedside nurses have great hands-on experience, they're often volunteered for other roles such as assisting public health screenings, assistant physicians or working in private practices.
Nurses that hold a BSN degree are qualified to be bedside nurses. However, MSN degree holders can advance to other careers like:
Certified Registered Nurse Anesthetist (CRNA)
Clinical Nurse Leader (CNL)
Clinical Nurse Specialist (CNS)
Certified Nurse-Midwife (CNM)
Nurse Educator
Psychiatric-Mental Health Nurse Practitioner (PMHNP)
Nurse Practitioner (NP)
Family Nurse Practitioner (FNP)
These are just some areas you can specialize in with an MSN degree. An MSN program will open you up to more opportunities and advancements in various fields.
If you're looking for how to become a family nurse practitioner, a Master's Degree for Science In Nursing is a great place to start.
Many family nurse practitioners start off with this Master Of Science Degree before progressing further in the nursing profession.
Administrative Roles For Master Of Science In Nursing (MSN)
An MSN degree with a Master of Business Administration degree (or something in Nursing Administration or Nursing Management) also opens up new job opportunities for you.
Often these types of roles involve managing the nursing staff, creating budgets and finances, keeping a record of the facility services, and much more.
Administrative nurses must ensure their departments always comply with the law while promoting staff development to ensure optimal workflow.
Some administrative MSN roles include:
Nurse Administrator
Clinical Nurse Researcher
Legal Nurse Consultant
Director Of Nursing
Quality improvement
A Master Of Science In Nursing (MSN) program paired with a related business or administrative nursing program can be an excellent route into non-bedside practice roles.
There are multiple program options open to nursing students when pursuing nursing degrees, so consider them all carefully.
How Much Do You Make with an MSN Degree?
Advancing your nursing career with an MSN degree comes with many benefits, including a higher salary. It's proven that nurses who hold an MSN degree and specialize in a specific field, such as Nurse Anesthetist, earn a significantly higher salary, as you can see on the Bureau Of Labor Statistics.
The salary also depends on your chosen field. Here are some average US salaries for various nursing roles that an MSN program opens up:
Nurse Educator – $73,633
Certified Nurse Anesthetist (CNA) – $96,460
Clinical Nurse Specialist (CNS) – $101,276
Advanced Practice Registered Nurse (APRN) – $92,151
Psychiatric Nurse Practitioner – $106,033
Research Nurse – $95,000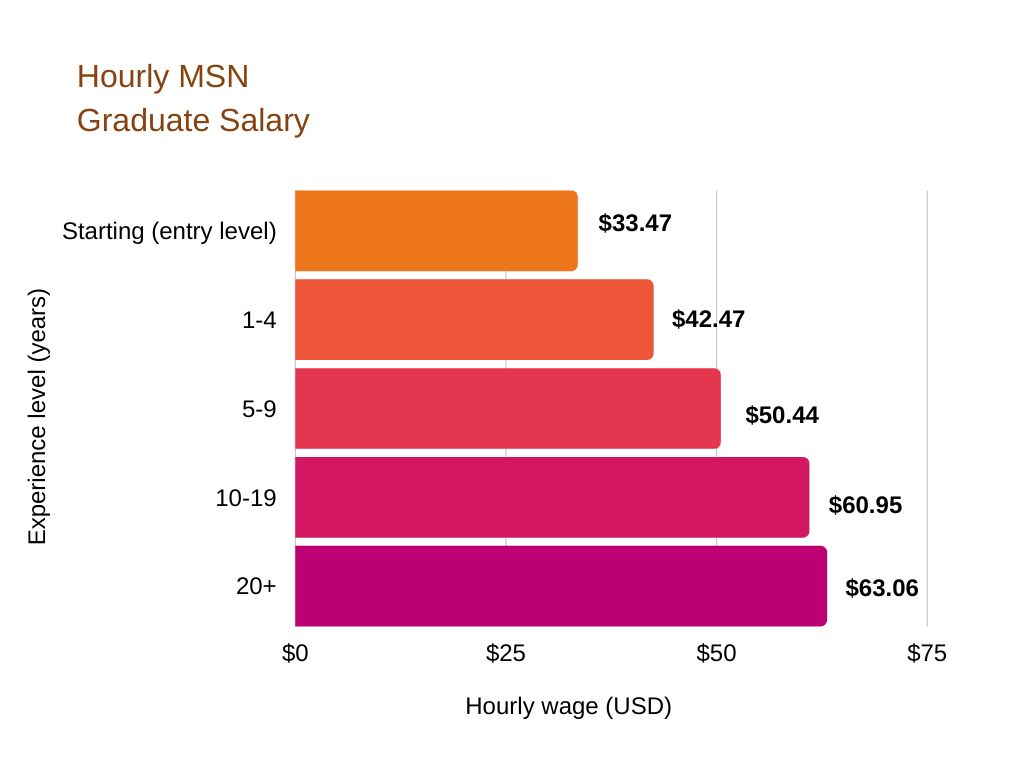 How much you can make as an MSN graduate depends on how many years of experience you have. With 1-4 years you can earn $42.47 an hour
Overall, the salary will fluctuate depending on your chosen career path. But it goes without saying that choosing to get an MSN degree will allow you to advance as a nurse and expect at least some increase in your salary.
This is especially true if you decide to pursue a higher-paying specialization like becoming a nurse practitioner or nurse anesthetist.
MSN Degree Programs FAQs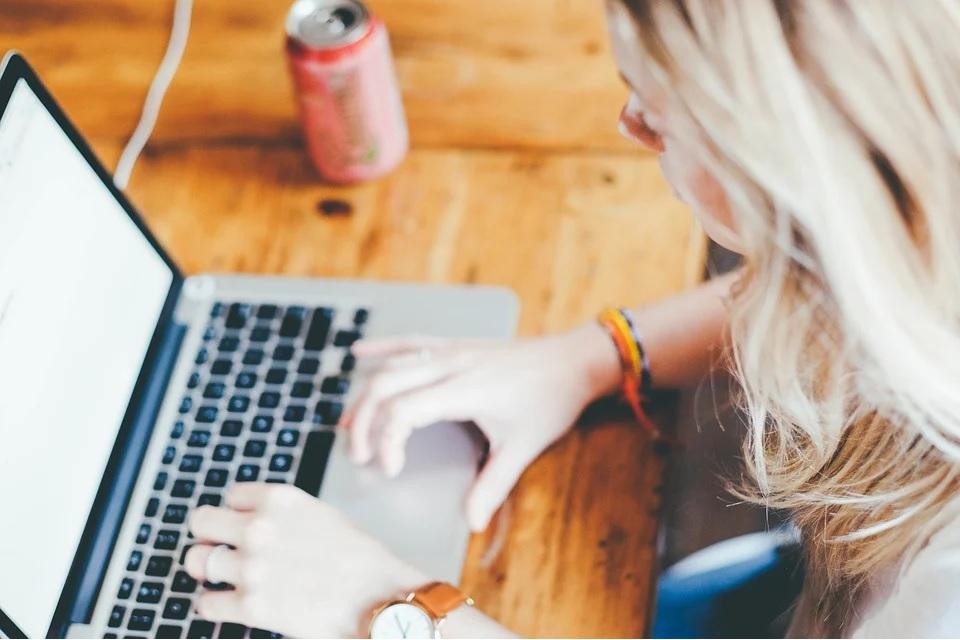 How Many Years Is an MSN Degree?
Usually, an MSN degree takes around 2 years to complete for a full-time nursing student.
Whereas if you're studying part-time due to family or because you're working, the time will be longer – ranging from 2 to 5 years max.
However, some universities offer accelerated master's programs, allowing you to finish the course in 18 months or less. These programs are a lot more intensive, and there is a lot to cover. Additionally, students are expected to devote themselves full-time to the material, so that means they can't work.
What Is the Best Online MSN Program?
Because there are so many online MSN programs available, it's a little daunting to find the best one for you. This is especially true when considering things like tuition costs, the nursing coursework itself, the length of the course, and so on.
If you're looking for a full-time course that will take you about 2 to 3 years to complete; then I recommend Texas A & M University MSN program. The minimum course length is 28 months, and the university offers financial aid, as well.
It's the best online MSN program in our opinion.
Are Online MSN Programs Respected?
An MSN degree is often time-consuming and expensive to complete, even if it's online. So you might wonder if it's even worth going through all the stress if your final degree won't be respected, or even accepted.
Fortunately, if the school you choose has a third-party accreditation, including its program, then you've nothing to worry about. In some cases, diplomas don't even take note that you've completed the course online, so it shouldn't affect your future job prospects.
Look out for accredited courses.
Keep in mind that choosing a program that favors clinical hours is huge. It's even better if the University helps you land a suitable clinic in which you can work, rather than leaving the process up to you.
Lastly, it's worth mentioning that whether the MSN program is online or in University, the course admission requirements are the same. Nursing students need to have all the proper requirements met before joining the MSN program.
Is Getting an MSN Worth It?
Pursuing an MSN degree is definitely worth it if you know what nursing practice you wish to specialize in. Other benefits of this include wider job opportunities as well, especially if you've already been working as an RN nurse for several years and wish to advance in your career.
It's worth considering.
If you have a lot of career prospects, opting for an MSN degree can even be profitable. This is true when considering the amount of money spent on tuition fees.
Overall, we believe that it's worth getting an MSN. As well as financial benefits, there is a growing demand for nurses in almost every field. Plus, an MSN will allow you to become a nurse educator or leader, which is an equally rewarding role.
What Is the Difference Between a BSN and MSN Program?
A BSN (Bachelor of Science in Nursing) allows you to work as a registered nurse in hospitals, clinics, and similar facilities. It is recognized as the minimum education that's needed for a nursing profession. Many hospitals are accepting BSN or higher when hiring nursing staff.
As previously mentioned, an MSN (Master Of Science in Nursing) allows you to work as a nurse educator or it will put you on a direct path in the field you wish to specialize in.
If you decide to go for a direct entry MSN program or an Accelerated BSN course, both let you use your previous education to earn a degree faster than you'd by taking the traditional course.
Plus, both programs offer a rewarding nursing career.
We have an informative piece on how to get a BSN if you wish to learn more about this option.
Which Masters Of Science In Nursing Degree Pays the Most?
Finding an area to specialize in is tough if you're interested in various fields. While the financial aspect is an important fact, it's better to specialize in something you find rewarding.
With that being said, the top 3 best-paying MSN degrees are Advanced Nurse Practitioner, Nurse Anesthetists, and Nurse Practitioners.
Nurse Anesthetist (CRNA) – $181,040
Advanced Nurse Practitioner – $124,756
Nurse Practitioner (NP) – $115,800
These are rough salaries that fluctuate from state to state and city to city – check the average amounts in your local region to be sure.
Can You Go from MSN to CRNA?
In simple words, yes you can.
Nurses who have completed either the doctoral degree program (DNP) or MSN, can earn a CRNA degree. However, if you're an RN, you can try the accelerated RN-BSN-MSN program in order to earn a CRNA degree.
Today, a Nurse Anesthetist is one of the highest-ranked and best-paid jobs ($181,040) on the market.
It's because this job role requires advanced skills and expertise due to the nature of the role. A nurse anesthetist works closely with other medical staff for surgeries and other procedures that require anesthesia.
Master's Degree Of Science in Nursing (MSN) – The Takeaway
Being a nurse is highly rewarding – it allows you to help patients through their toughest moments in life and provide the care they need. There isn't anything more fulfilling than being a part of that and growing your own area of expertise while at it.
Don't you agree?
Whether you decide to go for a traditional MSN program or an accelerated one, the benefit of having more career options, a potential salary increase, or the chance to advance your own nursing career – is worth it.
Thanks for reading.