Purdue Global University: Why Attend Purdue Global to Earn a Nursing Degree?
Purdue University Global strives to offer online programs that allow for flexibility in higher education.

Purdue University Global offers associate, bachelor, master, doctorate, and post-doctorate nursing degree programs. The qualifications to get into each program will vary.

Nursing students of Purdue Global can take advantage of online resources, user-friendly online classes, experienced faculty, and affordable programs.
Purdue University Global: Online Nursing Degrees for Professionals
A part of the Purdue University system, Purdue University Global offers multiple online nursing degree programs. The online university strives to make education options accessible through its online programs. 
Purdue University writes: "In April 2017, Purdue reinforced its status as one of the world's most innovative universities by announcing it would acquire Kaplan University, a longtime leader in online adult education, and create a new, public institution—which is now Purdue Global."
From the person working on a nursing associate degree to someone looking for a post-graduate certification, Purdue University Global has something for everyone interested in the nursing profession.
Purdue Global's Mission Statement 
Purdue Global offers nursing students comprehensive programs, allowing nurses to jump-start their careers. Their flexible programs let working people earn their degrees while balancing other responsibilities. 
Purdue Global explains it this way: 
"When it comes to balancing a career, family, and school, we know that flexibility is key. That's why we put you in control of your education, offering innovative learning options that let you choose what, how, and where you learn. Our Advisors work closely with you to understand your personal learning needs. They also evaluate your academic, professional, or military experiences to give you credit for what you already know. Together, we'll determine the fastest, most affordable path to your degree and career." 
Purdue Global has lots of perks to help its online student community, including:

Interactive online classrooms

One-on-one mentoring

Tutoring in math, science, and writing at no extra cost

Career counseling before and after graduation
Purdue Global: Empowering the Next Generation of Nurses 
Nursing is one of the fastest-growing professions and has a great job outlook. According to the Bureau of Labor Statistics, the growth rate for RN jobs is expected to grow by 9% from 2020 to 2030. 
The average income is about $75,000 a year, and it's even higher among nurses who have a Bachelor of Science in Nursing (BSN).
Advanced practice registered nurses' employment options are even better. The job growth rate for nurse anesthetists, nurse midwives, and nurse practitioners is expected to increase by 45% by 2030. And the average income in these professions is over $110,000 a year. 
Purdue Global University is helping people reach their nursing degree goals. They offer traditional programs and accelerated options for nurses already in the field. 
The university recognizes that everyone's educational background is different. If you already have some training, they can help you fill in the gaps to complete your degree at a pace that works for you.
Graduate Nursing Degree and Certificate Programs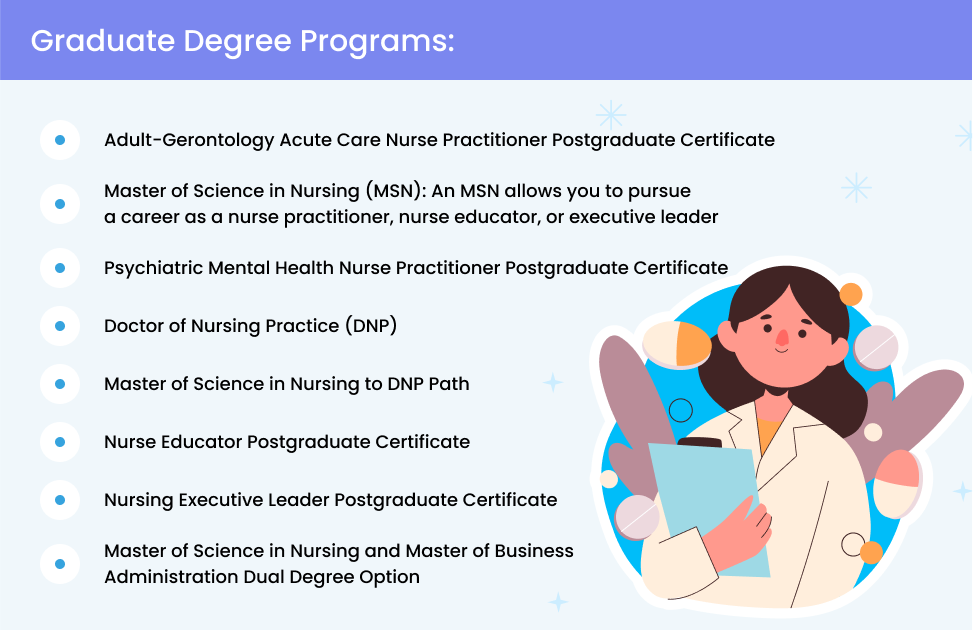 Purdue University Global offers multiple nursing degrees and certificate programs online. They have both graduate and undergraduate degree programs. 
Undergraduate Programs
Associate of Science in Nursing (ASN) 
You can complete laboratory requirements in Maine, Iowa, and Nebraska. After getting an ASN degree and passing the NCLEX, you can practice as a registered nurse (RN).
RN to Bachelors of Science in Nursing (BSN)
Purdue Global offers both an accelerated BSN program and a standard RN to BSN program. More hospitals require nurses to have their BSN degrees, and many employers prefer to hire BSN graduates over ASN graduates. 
They also offer single undergraduate courses for students who might be completing a degree elsewhere.
Graduate Degree and Certificate Programs
Purdue Global offers the following graduate nursing degree programs:
Adult-Gerontology Acute Care Nurse Practitioner Postgraduate Certificate

Doctor of Nursing Practice (DNP)

Master of Science in Nursing (MSN): An MSN allows you to pursue a career as a nurse practitioner, nurse educator, or executive leader.

Master of Science in Nursing to DNP Path

Nurse Educator Postgraduate Certificate

Psychiatric Mental Health Nurse Practitioner Postgraduate Certificate

Nursing Executive Leader Postgraduate Certificate

Master of Science in Nursing and Master of Business Administration Dual Degree Option
The university also has single courses available for graduate nursing degrees. These courses allow you to finish your required credits to get your degree from another school.
Ratings and Student Satisfaction 

Purdue Global University has ranked well among universities in the United States. According to the US News World Report rankings, the university ranks
#5 in Top Public Schools

#53 in Regional Colleges in the Midwest

#62 in Top Performers on Social Mobility
Even though programs are online, there are several ways for students to connect. You can join clubs based on your interests or study area. There are also student honor societies and student association groups. 
Purdue Global University boasts of highly positive reviews from students. Over 90% of first-year and senior students describe their experiences as "excellent" or "good." 
And over 90% of first-year and senior students said they would "definitely" or "probably" attend Purdue Global again. 
Is Purdue Nursing Hard to Get Into?
Enrollment into a nursing program at Purdue is straightforward. However, you need to meet specific requirements to enroll in certain programs. And not every program is available in all states, so it's also important to check state availability.
For example, students who want to enroll in the following programs need to meet the accompanying requirements: 
Associate of Science in Nursing (ASN)
You must have a high school diploma or equivalent like a General Education Development (GED) certificate. You need to be at least 18 years old, have a valid address, and pass a criminal background check.
Bachelor's of Science in Nursing (BSN) 
Besides ASN requirements, your previous education history will determine which program you should enroll in. You need to be a registered nurse with an associate degree or equivalent. 
You can enroll in the accelerated BSN program if you have enough credits. 
Master's of Science in Nursing (MSN)
To get into an MSN program, you need to have your BSN degree already. You'll need to provide a transcript to prove that you've completed your BSN degree. 
Doctor of Nursing Practice (DNP)
To get into a DNP program, you need to have completed your MSN degree from an accredited school. Your cumulative GPA needs to be at least 3.0. 
Advantages Of Choosing Purdue University Global 
Purdue University Global is a good choice when you're exploring online schools. Here are just a few of the highlights of getting your online degree from Purdue University Global:
Unlike more traditional colleges, Purdue Global offers several different start dates for coursework, allowing you to start when you're ready.
Small Student to Faculty Ratios
Purdue Global has 1,550 faculty members ready to help its students. That's about one faculty member for every twenty students, allowing students to get individualized help.
The average class size is between 18 and 23 students, so you'll be able to ask questions and get the help you need. 
Costs are much lower than other traditional college programs, partially because of the online format. The average cost for an associate degree is $15,000, and the average price for a bachelor's degree is $24,000.
The faculty advisors can help you decide your best education options and help you decide on the best career path for you. 
Access to the Purdue Global Library
You don't have to do all the research alone. Purdue Global gives you the resources to learn what you need for your degree.
You get to control when you do your classwork, allowing you to balance your work and home life. 
Interactive Online Resources and Classes in a User-Friendly Format
You can access your coursework from the comfort of your home on your laptop. 
Get Started With Your Degree From Purdue University Global Today!
Are you interested in earning your next nursing degree online? Why not learn from one of the best online colleges in the country? Get a degree and let the process fit in with your schedule and priorities.  Get started at Purdue University Global today.